B.
Five eyes by Eric Ravilious
Collection
11 November 2014. Posted by Tim Jones
This article first appeared as 'Artist captured poetry in wood carving' in The Press on 11 November 2014.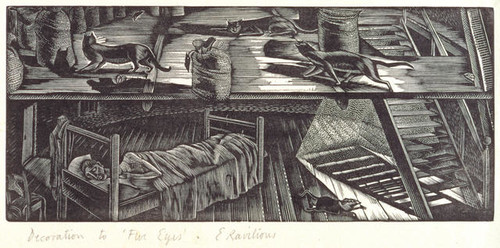 What is going on here? In the bottom half of the picture a scrawny man lies asleep in bed, while several plump mice scurry about. In the top half three cats prowl. A staircase and a shaft of light unite the two halves into a single story.

The creator of this exquisite little scene is British painter, illustrator and designer Eric Ravilious (1903-1942) whose life was cut short when the plane in which he was working as an official War Artist was lost over the North Atlantic.

The clue to today's work is its small size, its very particular shape, and the fact that the cat in the centre has only one eye – the others presumably have two each. Three cats but only five eyes between them. This leads us to the poem 'Five Eyes' by Walter de la Mare (1873-1956) in which 'Jekkel, and Jessup, and one-eyed Jill' chase mice 'while lean old Hans he snores away'. Every line of this short popular poem is captured in this beautiful little composition, as crisp and unsentimental as de la Mare's verse.

De la Mare's poem first appeared in 1913 and was set to music by Armstrong Gibbs (1889-1960) in 1922. It became - indeed it still is - a popular, simple art song for student singers. Gibbs was himself a music examiner and knew exactly how to write a song that would gently challenge, but not confound, young singers. It has been arranged for all manner of voice types and a recording held at Christchurch City Libraries reveals that it was, rather improbably, sung as a massed choir item at the 1979 Christchurch Schools Music Festival.

A popular parlour song needed a piano, a pianist and some printed music. But what if these were not available? Before MIDI files and karaoke backing tracks was of course the reproducing piano or pianola. Punched paper rolls were fed through a mechanism similar to a wind-up music box which caused the piano to play itself, reproducing reasonably faithfully the performance that had created the paper roll in the first place.

Ravilious, very much a professional designer and illustrator who readily turned his hand to printed ephemera, catalogues, tickets, cards, labels and so forth, produced several wood engravings for the Aeolian Piano Roll Company, including the one illustrated above, which was released in 1926. The roll starts with a brass ring to hook it onto the machine, then some advertising matter about other rolls available and some information about the song and its creators. There follow some notes on how best to perform it and the ideal tempo: the speed at which the paper passed through the mechanism could be adjusted. And before the perforations themselves appear, our delightful illustration. It is curious that the boxes in which these piano rolls were packaged were often blank, with just brief title information on the ends. Only when you uncoiled the roll and began to thread it into the pianola was all this extra information revealed.

This item came into the collection as part of Rex Nan Kivell's gift of British prints mentioned previously in this series. Its origin as a piano roll label only became known with the recent publication of Jeremy Greenwood's monumental catalogue raisonné of the wood engravings of Eric Ravilious, published by Wood Lea Press.
Related reading: The Golden Age