British, b.1697, d.1764
The Bruiser, C. Churchill (once the Revd), in the Character of a Russian Hercules, Regaling himself after having Kill'd the Monster Caricatura that so Sorely Gall'd his Virtuous friend, the Heaven born Wilkes
Presented by Gordon H Brown, 1972
Engraving
380 x 287mm
72/150
1763
Tags: animals, anthropomorphism, bears, beer (beverage), books, cannons (artillery), caricatures, cross-hatching, dogs (animals), drinking, monochrome, ovals (plane figures), satire (artistic device), tankards, text (layout feature), urine, words
Here's some beastly behaviour: William Hogarth, a famous eighteenth-century British artist, trading insults with two gentlemen whom he had greatly upset. Hogarth had published an engraving attacking the journalist Charles Churchill and the politician John Wilkes, and another showing Wilkes being tried in court. Churchill, in return, published a vicious poem about Hogarth. He retaliated by making this print, picturing Churchill as a drunken bear, clutching a beer tankard and a club covered in 'lyes'. The picture in the lower right-hand corner shows Hogarth whipping Churchill and Wilkes (as a performing bear and monkey) into line. Meanwhile, Hogarth's pug passes judgement on Churchill's poem.
(Beasts, 2015)
The background to this print - in which Hogarth attacks the poet Charles Churchill (1732-1764) - was elegantly explained by the Tate Gallery during its 2007 William Hogarth exhibition. You can find full details here.
Related reading: Beasts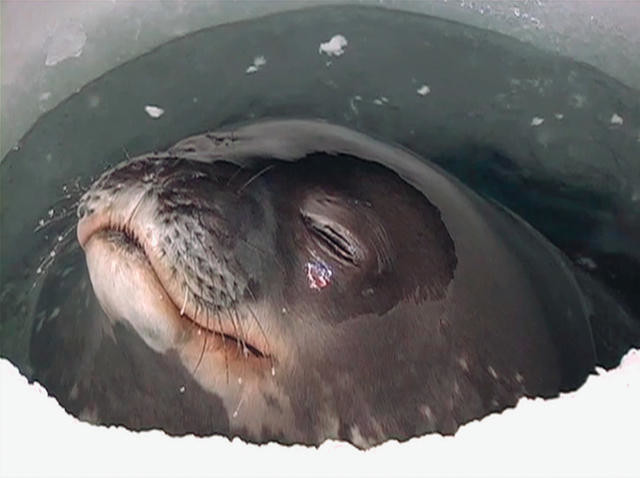 The Weddell seal inhabits the ice shelves around Antarctica, living and breeding further south on the planet than any other mammal. The known record for holding its breath is ninety-six minutes – an incredible feat which allows it time to find or make breathing holes in the ice, and to stay down long enough to capture its preferred prey, which often live very deep.
Los Angeles-based Connie Samaras made this video in Antarctica in 2005 while on a special study grant for artists and writers.
(Beasts, 2015)
The images shown here are stills taken from the video.