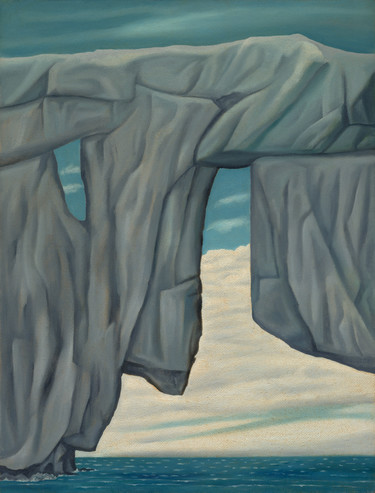 Leo Bensemann: Seascape with causeway
The four years I spent at Elam as an undergrad straight out of high school ruined art for me. I entered the building on Mount Street in love with painting and wanting to be a painter, and I left in love with nothing.
I was too young. That time broke me in a way I wasn't ready for. I didn't yet have my own set of beliefs, values, tastes that I could hold onto and then use to rebuild myself. I was still waiting for other people – my elders – to tell me what to do, what to like. Not long after that I moved to Melbourne, where I did something I hadn't done in years – visited the museum. The NGV has a Rothko (Untitled (Red), 1956) in its collection, and I started going there on the regular, primarily to look at the painting. I didn't tell anyone about this – I was afraid it was a corny thing to do, and I was embarrassed.
Why the Rothko? He was one of my firsts. When I was a young teen discovering painting, I was drawn in by what seemed simple but was in fact not. I also wanted to know more about what it meant to put so much of yourself into making something, so much that it hurt. I couldn't understand any of that then, though I can better now. After looking at Rothko plates in my copy of The Shock of the New, and then being lucky enough to see a retrospective while in Paris on a high school trip, that sweet pink number in a back room of the NGV, hung on a wall that wasn't quite big enough, reminded me of what I'd wanted so badly. I believe it also made me trust I would find something else, my real thing.
The work from Christchurch Art Gallery's collection that I've chosen is a small landscape by Leo Bensemann titled Seascape with causeway (1979). Simply because I like it. I like how it has both a fragile and dense energy to it – I think this is something to do with the composition, the slicing off of the causeway. The texture of the rocks makes me think of the many folds of fabrics I painted from all of those still lifes in high school. The little window through which you can see two spidery clouds? Unreal. I can't quite get a grip on it – this painting, its reasoning – and I like that too.
When I was pregnant with my son, during the US summer when I finished writing my first novel, I made it to the Rothko Chapel in Houston. They really are just some big dumb ol' paintings, aren't they? Though the colours weren't what I'd imagined. And the air in that space wasn't something I'd considered at all. I was moved in a way that Rothko probably would have liked. No, I was shook. And it wasn't embarrassing and it didn't feel corny. It made me think that the place the kid outta Elam couldn't see or imagine for herself was here, and that maybe I'd arrived.