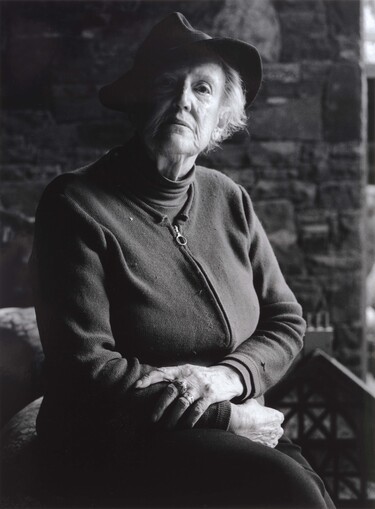 Marti Friedlander – Margaret Mahy
Marti Friedlander is my favourite Aotearoa photographer. I don't remember the first time I saw one of her photographs, but they always feel familiar and give me a sense of warm nostalgia. Her work captures a time in New Zealand I miss – primary school cheekiness, shopping on a Saturday morning, travelling to family farms in Timaru and North Canterbury. A simpler life.
Her artist portraits are so special, entering their creative space with respect. There was obviously a connection between Friedlander and those she photographed. There is a stillness and relaxed nature that I love. This photograph of Margaret Mahy is magic. Both such intelligent, amazing, creative women, I would have loved to be a fly on the wall for their meeting.
Like many children who grew up in Christchurch, I was entranced by Margaret Mahy. Her stories were so imaginative – they taught us about lions in meadows, witches and pirates, and they made me look at my shadow in a whole new way. I remember once she showed up at our school with a crazy coloured wig on and read to us, the classroom was so quiet as we listened to her every word.
Mahy was intriguing too, and stories like The Haunting, The Tricksters, The Change Over and Kaitangata Twitch have dark, twisted undertones. She must have had such an amazing imagination.
When Kaitangata Twitch was made into a TV series in 2010, two years after Friedlander took this photo, I was offered the chance to interview Mahy for my radio show. She lived up to all expectations and more. She was quick and witty, joking about needing a stool and taking a minute or two to get balance sitting on it while commenting on her age. I was at my Auckland radio studio and she was in Governors Bay; describing the view out her window she used such detail I could imagine the Banks Peninsula sparkling. It was a wonderful interview, and I will treasure it forever.
Friedlander's photo keeps the mystique of Margaret Mahy alive in my mind. Is that a castle she is sitting in? Are there witches or spirits there too? Her rings are intriguing. A little lint on her merino jersey, a little worn on the sleeve. And an old hat. Her hands have written so many wonderful words, enlightened so many minds and encouraged so much imagination.
Friedlander has captured Margaret Mahy's spirit so well.