Ane Tonga's Seta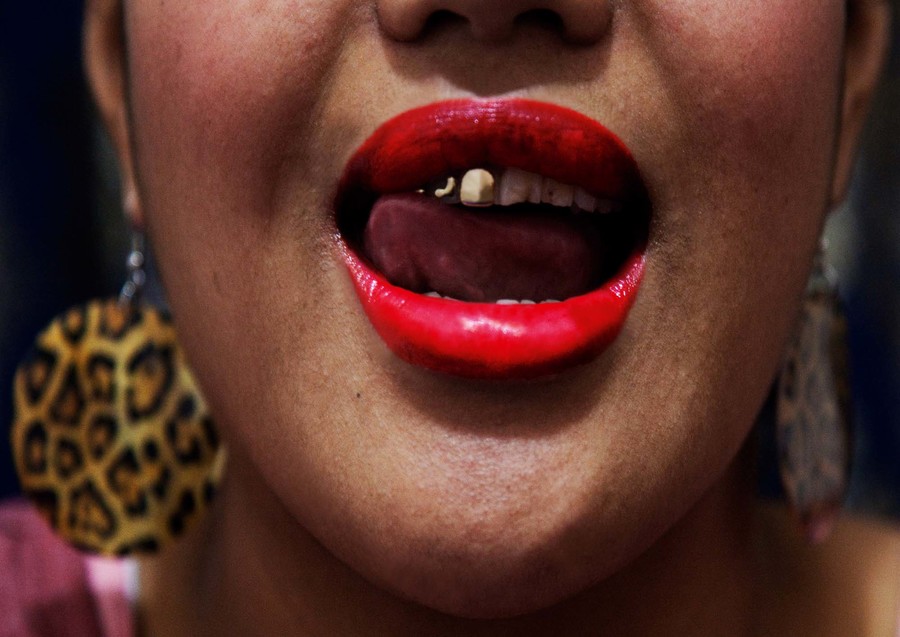 There's a moment in my play Black Faggot when a gay Samoan man describes the moment he sees 'this fine chocolate piece of mmmmmm' on the dancefloor at a nightclub.
'…he looked over at me and then he smiled and then I was like, Damn, he's a Tongan. He had a mouthful of gold in there…'
The line always gets a laugh – even from people who don't necessarily understand the strong connection between gold teeth and Tongan culture. But Ane Tonga's Seta, is much more than just a punchline.
It's a bold statement, as bold as the bright red lipstick worn by the young Tongan woman in the photograph.
White Gaze, RIP: here's the Brown Gaze in full effect, where we get to see a Tongan woman through a Tongan lens: those telltale gold teeth; that mischievous tongue; those leopard-print earrings. Who else but a Tongan could have shot this?
The woman in the photo is getting ready to hit the club, perhaps. You can imagine the soundtrack to the photograph. Something anthemic by Beyoncé, possibly, or maybe Rihanna. And you can imagine the night that follows: lots of mocking and laughter. Plenty of selfies and shots. Maybe even some heavy-duty flirting until finally that mouth full of gold smiles at a big-biceped hunk and those bright red lips end up pressed against his.
Part of the reason I respond so strongly to Seta is that I feel something that I very rarely feel when I wander through art galleries: like I've known variations of this woman throughout my entire adult life. I feel like we danced together, sweat drenched, in the heat of Daniel's nightclub on St Asaph Street in the nineties; that we had our eye on the same guy at Auckland's Bass Bar in the oughties; mocked each other mercilessly at the infamous Supper Club on Pitt Street.
I imagine that this photograph is on a Saturday, before she takes off those earrings and wipes off that lipstick and morphs back into the good girl belting out a hymn at church wearing her ta'ovala, praying to God that all that Listerine she gargled this morning is masking the smell of those Jägerbombs she threw back last night.
When you search Seta online on the Gallery's website, the tags are: earrings, gold, lips, people, red, teeth, women.
And while they're all certainly there, present and accounted for, Seta is so undeniably Tongan that its omission from the tags is glaring.