Len Lye's Learning Curve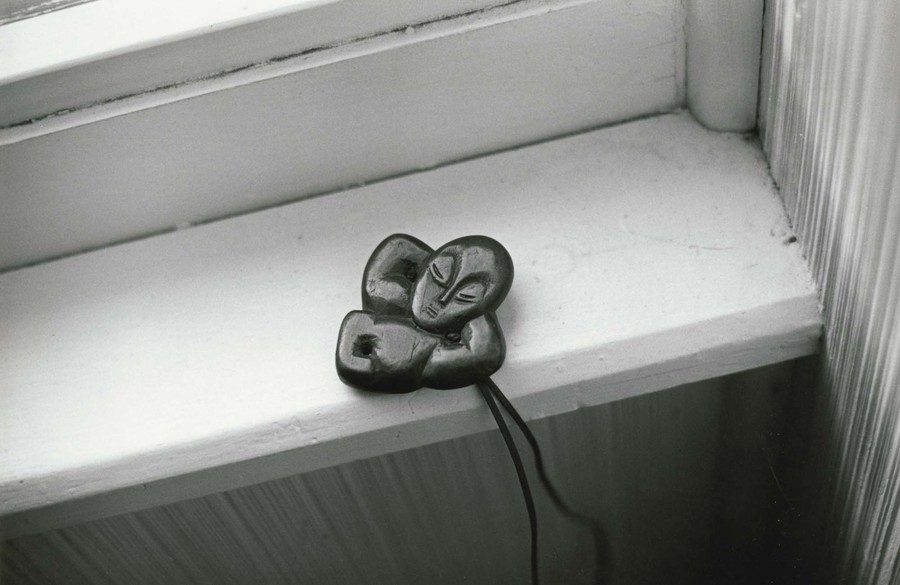 One of the most dramatic aspects of the career of Len Lye (who was born in Christchurch in 1901 and died in Warwick, New York, in 1980) was his youthful search for information about the modernist revolution in art. This occurred throughout the early 1920s, when New Zealand was still (in Peter Tomory's words) 'a cultural wasteland' and (in Eric McCormick's) a 'backwater of nineteenth-century civilisation.'1
Lye came from a less than privileged background and had left school at thirteen because his family needed him to get a job. Outside of work hours, he had shown an amazing artistic talent and flair for self-education, learning to make maximum use of public libraries and museums in Wellington, Auckland and Christchurch. Once rumours of Parisian modernism reached him, he proceeded to make himself better informed than any other New Zealander, extracting all the fragments of information he could squeeze from libraries – even the mocking reviews being published in English art magazines. Two of Lye's notebooks and a few works of art have survived from the early 1920s, and they are extremely valuable as evidence that he, alone in New Zealand at the time, was developing an avant-garde aesthetic. He was studying a range of contemporary European artists, together with Māori, Aboriginal and African traditions of indigenous art. The notebooks in particular provide us with a detailed inside look at Lye's process of discovery.
New Zealand had already produced two important modernists, the writer Katherine Mansfield and the painter Frances Hodgkins, but both had left for England – Mansfield in 1908 and Hodgkins in 1913. Lye was to become more radical than either of them. Modernism was still so new that many artists overseas were engaged in a similar quest for knowledge. To quote from an American account of the period: 'If somebody had a French magazine with a picture of Picasso's in it, that was news. It was big stuff. … There was ... a sense of curiosity, of wonder and excitement. … [Artists] were aware of a more mysterious world out there.'2 In New Zealand, that sense of mystery persisted; certainly the art and literature taught at my school stopped well short of the twentieth century and as late as 1956 I remember making the same excited discoveries. That was the year the first Henry Moore exhibition reached Auckland, and the Mayor, J.H. Luxford, told the Herald: 'I have never seen the art gallery desecrated by such a disgusting sight. … These figures, offending against all known anatomy, to me were repulsive.'3 (Incidentally, Moore had exhibited with Lye in London between 1928 and 1935.)
Lye's first breakthrough, made while living in Wellington around 1920, had been the idea that art had yet to fully explore movement. The intensity of his search to develop original forms of art is hard to explain, except that his early years had made him highly independent, with a maverick attitude to convention. Added to this, his labouring jobs had trained him physically, which was unusual for an intellectual artist; Lye came to see movement in exceptionally kinaesthetic terms.
Now he had his idea, what imagery could 'carry the motion'? He experimented with 'choreographic marks' and 'spaghetti-looking sketches', but viewers of his drawings were baffled.4 Then around 1922 he discovered modernism. Ezra Pound's 1916 book Gaudier-Brzeska, about the French sculptor killed in World War I, provided a compendium of information about 'Cubism, Expressionism, everything that was going on'.5 Futurism was dismissed by Pound as merely a superficial, impressionist version of movement. Despite its small print-run, this book had a huge influence on young artists of the time, including Moore. Lye was energised by the belief that somewhere in modernism he'd find what he needed – a new approach to representation. In this pre-Xerox era, he copied Gaudier-Brzeska's manifesto by hand into his notebook.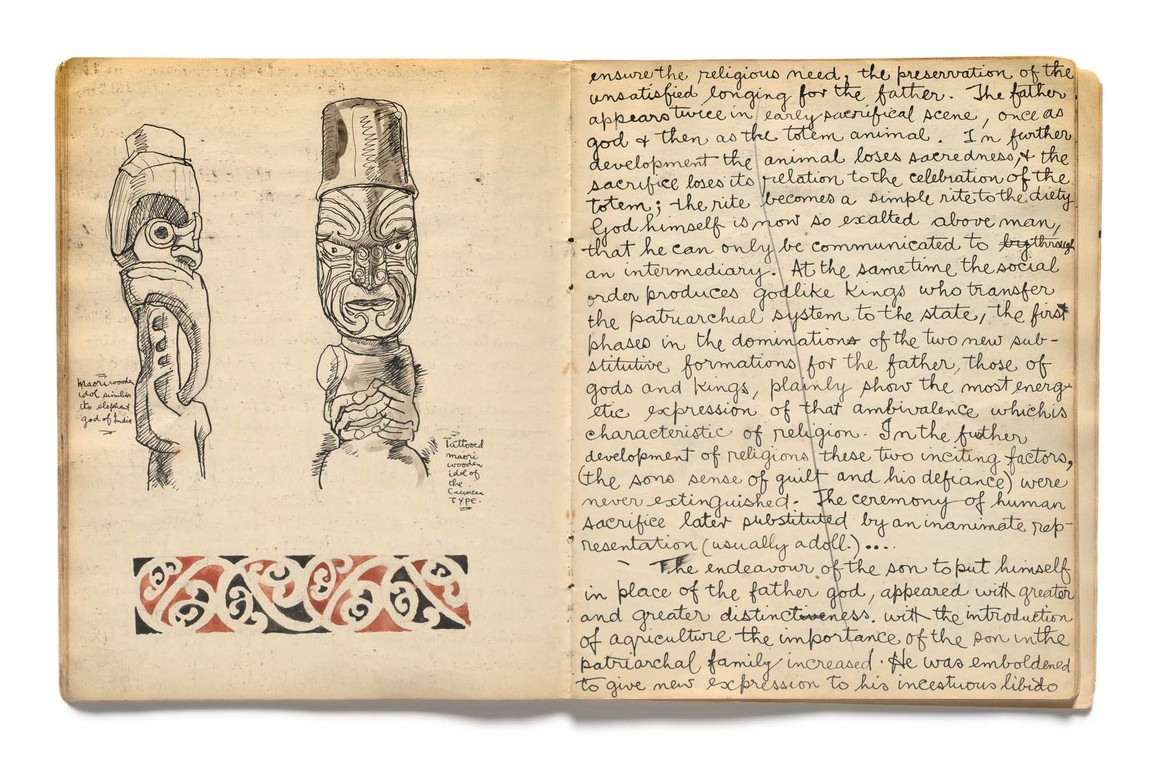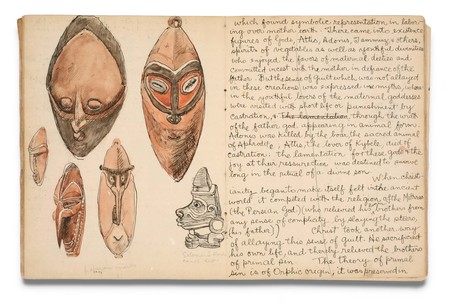 The French sculptor's artistic dialogue with 'primitive' work, which we now call tribal or indigenous art, reinforced Lye's already growing interest in this area. In his first encounter with such art, he immediately felt excited: 'I knew I was not a chip off the Western art block, I knew it in my bones.'6 The modernists saw the 'primitive' in positive terms, contrasted with Victorian art which they saw as an exhausted dead-end. Lye studied indigenous art in museums and on occasional visits to Māori communities. During an earlier trip to Christchurch in 1922, he had explored the Canterbury Museum. He had not yet begun his notebook, but this was a particularly important year in the shaping of his ideas.7 Later he spent time in the Auckland Museum, the Museum of New Zealand in Wellington and – during two periods in Sydney in 1923 and 1925 – the Australian Museum. When he started his notebooks, he filled them with drawings of the Māori, Aboriginal, Pacific and African work on display. Although he constantly juxtaposed and compared tribal styles, he also studied their particular contexts and ritual meanings. When I showed Lye's notebooks to Dr Roger Neich, an expert on Māori and Pacific art, he was greatly impressed by how precisely Lye had depicted the carvings. Ironically, this exactness showed how thoroughly Lye had mastered the traditional drawing methods he was about to abandon in becoming a modernist.8 He wanted first to pay his dues, seeking to gain a deep 'aesthetic feeling' for tribal traditions. As far as I know, he was the first Pākehā artist to treat Māori carving in such a serious, intrinsic way. Earlier painters, including Hodgkins, had been drawn to Māori subjects but had represented them in a European manner. During several years in Australia, Lye had also sought to immerse himself in the sign systems of Aboriginal art and he appears to have been equally ahead of his time as a non-Aboriginal artist in taking that tradition seriously.9
The main works of art Lye produced during the 1920s – Tiki (1922), Unit (1925), Polynesian Connection (1928–9) and Tusalava (1929) – are not merely imitations of Māori or Aboriginal art because they are also in dialogue with the modernist tradition, with Gaudier-Brzeska in the case of Tiki, Brâncuși in the case of Unit and German abstract films in the case of Tusalava.10 Art historians today would describe Lye's works as examples of 'modernist primitivism' and certainly they share aspects of the genre, but his approach was different from that of European artists. The Cubists and Surrealists were seldom interested in the country of origin or context of indigenous art; Lye was a thorough researcher. For example, he spent eight months living in a village in Samoa, until he was deported by the racist colonial administration.11 Politically aware, he eschewed the ugly, Gauguin-esque behaviour that also sometimes went with European primitivism.
Lye's notebooks celebrated contemporary art such as Mikhail Larionov's costumes for Ballets Russes and Fernand Léger's primitivist costumes for the 1923 Ballets Suédois production of La Création du Monde (already by 1924 Lye knew all about them). His art and notebooks are unique in offering evidence that a New Zealand artist was seriously engaged with modernism at this time. Critics have also seen them as a re-discovered chapter in Australian art history.12 The range of sources contained in the notebooks reminds us that turn-of-the-century modernism was a complex cluster of interests. Sigmund Freud and psychoanalysis were part of the package, and Lye was one of the first local readers of the 1918 translation of Totem and Taboo, which applied Freud's theory of the unconscious to Māori, Aboriginal and other cultures. Lye was skeptical but copied many pages into his first notebook. Now he had discovered three alternative sources of imagery – modern art, indigenous art and the unconscious mind.
The drawing style in the second notebook (1925?) is noticeably freer, and halfway through there is an amazing switch of subject to machine shapes, which Lye continues to compare with modernist and indigenous forms.13 Machinery was a strong modernist interest, and around 1924 Lye had become wildly excited by a picture of Lyubov Popova's kinetic machine, a stage set for a 1922 Meyerhold Theatre production in Moscow. Lye had also become fascinated by the photograph of a 'perpetual motion machine' in Edwin J. Kempf's 1921 book Psychotherapy.14 Kempf saw this construction as a 'copulation fetish', but to Lye it was a model for kinetic sculpture. Later, his contributions to the 1928 Seven and Five Society exhibition in London would be examples of 'mechanised art', and the Auckland newspaper The Sun would publish a photo of this shocking work, describing Lye as a 'Futurist New Zealander'.15 As yet, however, his mechanical sculptures did not literally move.
For Lye, the elements in his notebooks – modernism, machines, indigenous art, the unconscious (or 'Old Brain') and movement – were inter-related and would remain lifelong interests.