B.
Worcester Boulevard exhibition extended as publication developed
Gallery
27 September 2012.
The popularity of Reconstruction: Conversations on a City has led to the exhibition being extended until 14 October, and the development of a publication.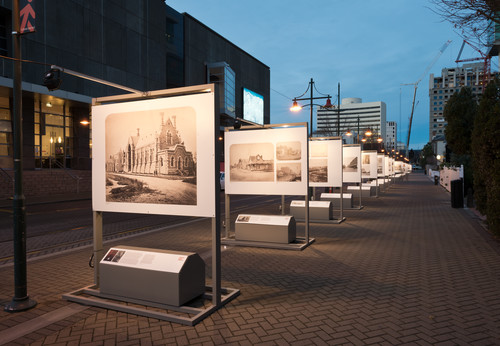 The large-scale outdoor exhibition on Worcester Boulevard (between Montreal and Durham Streets) continues to draw significant crowds, particularly in weekends. The exhibition is part of our Outer Spaces programme and one of the first in a range of Christchurch City Council transitional city projects to be installed within the central city.
A recent Highly Commended winner in the 2012 Canterbury Heritage Awards, the exhibition offers images of the city back to its very beginnings, while championing the value of our rich architectural heritage and past, says director Jenny Harper.
'It's been heartening to see the way the show has been received on Worcester Boulevard – every time I go by people are stopping, talking with each other, taking away memories and rich impressions of the past.'
Meanwhile the development of a high-quality soft cover publication is well underway, says curator Ken Hall.
'Many people have responded strongly to the exhibition; everyone has their own story that they can attach to the exhibition's content. There's a lot to take in so this publication will allow people to retain and digest it still further, opening the way for conversations to continue beyond the life of the exhibition.'
The publication will be available in mid October as the exhibition closes and will be available at the Gallery Shop at 40 Lichfield Street, on our website and at selected outlets throughout the city
Related reading: Outer Spaces