B.
Continuous positive I by Shannon Williamson
Collection
This article first appeared as 'A delicate look at how the body works' in The Press on 27 November 2017.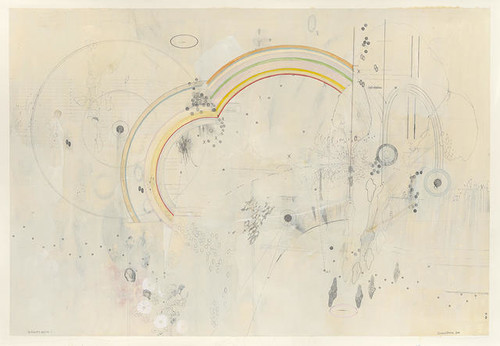 Most artistic depictions of the body begin with its exterior surfaces. Through posture, expression or clothing, they might suggest a subject's interior world, but as viewers we are held at a distance, relying on familiar associations for cues and insights. Artist Shannon Williamson offers a different perspective. In two drawings from her Continuous Positive series acquired by Christchurch Art Gallery in 2016, she takes us inside the body, showing us not its internal cavities, but its delicate workings, through annotations and diagrams she derives from biometric readouts.
Williamson graduated from the University of Canterbury in 2009 and set up a studio here, but relocated to Australia following the 2011 earthquakes. Curious to see whether her previous drawn investigations of the body could be expanded on through the medical discipline of sleep science, she took up a residency in Perth with the Symbiotica Centre of Excellence in Biological Arts, a group that orchestrates collaborations between artists and scientists. She saw first-hand how scientists monitor the brain, heart and respiratory systems with electrodes, gathering data that is expressed as lines on a computer for interpretation. Williamson's role was intended to be strictly observational, but she became keen to devise her own studies, and decided to spend a year training as a sleep scientist. Since then, she has worked in that field in parallel with her art practice.
The Continuous Positive drawings relate directly to her studies of the physical manifestation of psychological anxiety and how therapeutic approaches can alleviate feelings of fear and imbalance. Building up a picture from a range of data, Williamson 'graphs' the body to find the best way to support it. Her drawings, which she has described as 'attempts to navigate and describe the inner self', are self-portraits of a kind, mapping her own body through a combination of annotations, diagrams and anatomical drawings. As she took new readings, she crossed out the old ones, but they remain as traces; documenting the body in space and also over time. "I didn't want to get rid of everything", she has said. "I didn't want it to be a clean slate every time. We are a collection of our experiences".
The works take their titles from the Continuous Positive Airway Pressure system of sleep therapy Williamson uses. That phrase also relates to her process, in which images are created through repeated additions and erasures, and underlines what she calls "the importance of daily acts of resilience". Made with pencil and gouache, or opaque watercolour, they're delicate, tough drawings; fraught, but also hopeful. Aptly, on entering the Gallery's collection they have acquired a special credit line, acknowledging that the funds used to buy them were donated by British artist Sarah Lucas and her dealers, in response to the Canterbury earthquakes.