B.
Onekaka Estuary by Doris Lusk
Collection
This article first appeared as 'Lusk grabbed any chance to draw the power of places' in The Press, 20 July 2016.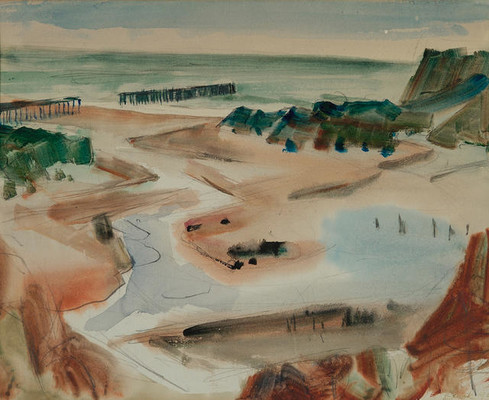 Painter Doris Lusk (1916 – 1990) sought out many different landscapes throughout her long career, from Central Otago's wind-bleached valleys and lush Motueka tobacco fields to the hills that fold like softly rumpled blankets up from the Canterbury Plains. One subject, however, held a special resonance. After encountering the derelict wharf at Onekaka Beach in Golden Bay in 1965, Lusk returned there frequently throughout her life, painting it from all angles and in a range of light and tidal conditions. When she died, left unfinished on her easel was a portrait of herself as an older woman in the place she once described as her spiritual home.
Born in Dunedin, Lusk trained at the King Edward Technical College, where tutor Charlton Edgar encouraged her to paint outdoors and taught her how to analyse and replicate the 'brilliant light' of Central Otago. In the summertime, she honed her skills by painting when she could while undertaking seasonal work in the region's orchards. After moving to Christchurch in 1942, Lusk fitted her art-making around the demands of raising a young family, and her children (and later, grandchildren) remember how she used family walks as sketching opportunities, inventing diversions for them while she pulled out the small roll of pencils she kept ready in her pocket. Ever practical, she painted where she holidayed, and her friendship with construction engineer Ian McCubbin and his wife Adelaide resulted in several significant works based on her observations of the vast Waikaremoana hydro-electric power scheme. It was McCubbin's later appointment as supervisor at the Cobb Power Station, north of Nelson, which led to Lusk's discovery of Onekaka in 1965.
Built in 1920 to transfer pig iron from the nearby Onekaka Iron and Steel Company onto ships bound for Australia, the wharf had been abandoned for thirty years when Lusk first glimpsed it. It had been made especially long due to the gradual slope of the beach. Further out, the waves surged with greater force than close to shore and over time this severed the wharf into two parts at the low-tide line. It was a disruption of the expected order that appealed to Lusk: 'I didn't see the wharf romantically, in the sense of a tumble-down barn,' she told art historian Lisa Beaven in 1987. 'It was really the fact that it was broken in such an interesting way…'
Set against a constantly altering backdrop of sea and sky, the distinctive blackened wharf, likened by poet Charles Brasch to a funeral cortege, was a source of fascination and challenge for Lusk, allowing her to further her experiments with watercolour, a medium she had taken up a few years before. Many of the works were completed outdoors in direct response to the site, and some are marked by the raindrops that fell as she painted. Onekaka became Lusk's primary subject for the next five years, and assumed a more ominous presence in her later works, when she translated the increasingly abstract verticals into a series of portentous oil paintings.
This delicate, rapidly worked study, observed from an unusually high viewpoint, traces a zig-zagging path from the estuary across sands reddened with iron oxide to the wharf and out to sea. Currently on view in the Gallery's Doris Lusk: Practical Visionary exhibition (until 30 October), it came into the gallery's collection through the generosity of Lawrence Baigent and Robert Erwin, two significant figures in Christchurch's cultural scene, who, fittingly, shared Lusk's affection for the Golden Bay area, often holidaying at nearby Collingwood. When Robert Erwin died in 2003, the bulk of the couple's collection was donated to the Gallery, and according to Robert's instructions his ashes were scattered by friends in the waters of Onekaka.
Related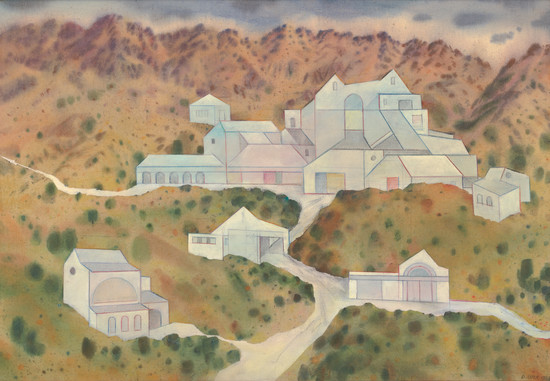 Doris Lusk: Practical Visionary
Intricate landscapes and imaginative explorations by renowned New Zealand painter Doris Lusk.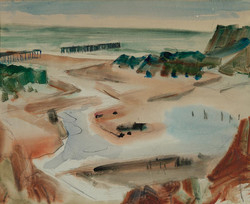 Built in the 1920s to load pig iron bound for Australia the nearby ironworks, the Onekaka wharf in Golden had begun decaying long before Lusk first saw it in By then, it was no longer connected to the sea and found its dramatic break at the low tide mark irresistible: "It was almost a geometric situation, the way it protruded through the quiet surf." Years later, Lusk recalled how she had set out determined not to paint the wharf, only to return with a sketchbook full of little else. The interplay between light and shadow, structure and fluidity, strength and decay intrigued and she would paint it almost exclusively over thefive years, in watercolours executed on the spot and a series of brooding oil paintings. This rapidly worked study, observed at a greater distance from the wharf most of Lusk's Onekaka works, emphasises the estuary's luminous quality and constantly changing tides.
(Doris Lusk: Practical Visionary, 4 June – 30 October 2016)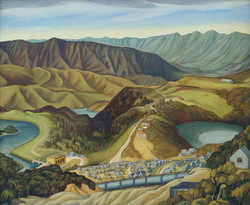 Daughter of an architect, and married to an engineer, Lusk was keenly attuned to structure. While artists such as Rata Lovell-Smith, Rita Angus and Christopher Perkins juxtaposed natural and constructed elements, such as bridges, telegraph poles and railway stations, Lusk chose more dominating features that resonated with weight, energy and a sense of industry. Artist Anne Hamblett recalled: "Doris always did a different sort of thing. Buildings and water stations. […] She liked doing big water pipes and machines." This view of the newly built Kaitawa hydro-electric station and associated settlement was painted when Lusk visited her friends Ian and Adelaide McCubbin in 1948. Ian McCubbin was a construction engineer for the Waikaremoana hydro-electric power scheme, which included power stations at Piripaua and Tuai (also painted by Lusk and part of this exhibition). Here, the massive pipeline in the foreground seems to continually shift in scale, looming hugely over the miniature houses but dwarfed in its turn by the distant mountain ranges.
(Doris Lusk: Practical Visionary, 4 June – 30 October 2016)