B.
Head of the Waimakariri by Charles Blomfield
Collection
This article first appeared as 'Mainland inspiration for Blomfield' in The Press on 12 September 2016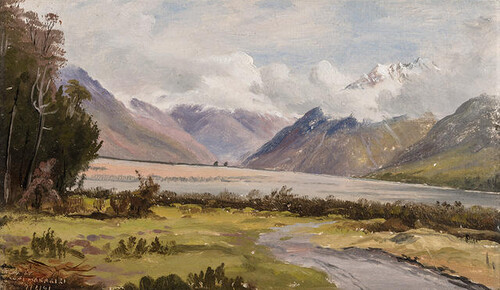 The Auckland artist Charles Blomfield (1848-1926) is renowned for his paintings of the Pink and White Terraces/Te Otukapuarangi and Te Tarata, which spectacularly disappeared when Mt Tarawera erupted in 1886. Several years later however, Blomfield set his sights on the scenery of the South Island/Te Waipounamu. In early February 1891, he was painting along the West Coast Road at Otira, Arthur's Pass and Bealey. Blomfield's time in this region coincided with Petrus van der Velden's first visit to Otira where the two artists met. Blomfield provided a rare first-hand account of the Dutch artist in a letter to his wife Ellen:
…about eleven o'clock two gentlemen came along, one carrying a large sketching box, and the other a box of colours. The elder of the two was Mr van der Velden. He came into the tent and lay down on the stretcher, and seemed to enjoy it immensely. He can only speak a little English. He has been living in Christchurch some months, and has some large pictures there on exhibition.
He was going up the river a little above my tent to paint a picture of a waterfall, so after a bit I went to see how he was getting on. He has a very strange style of painting – all broad touches, and when you look close in there is nothing but careless drawing, but give it the right distance and the effect is very fine. So he asked us down to see his studies… We saw all his pictures and some of them were very good, and then we stayed and had tea with him. He is a jolly old fellow with such a pleasant laugh, and very clever…
The landscape in Blomfield's small plein air sketch Head of the Waimakariri 7/2/91 is still recognisable today and takes in the view where the single lane bridge now crosses the Waimakariri River near Bealey. The gentle slope of the fan known as Turkey Flat dominates the scene while the upper reaches of the Waimakariri River disappear amongst the mountains in the distance. This same scene was later painted by the twentieth century Canterbury painters Bill Sutton and Colin Lovell-Smith. Blomfield continued his South Island travels and by the end of the summer had visited the West Coast, the Central Otago Lakes and Aoraki/Mount Cook before returning to his studio in Auckland. It was here that his small studies, such as Head of the Waimakariri 7/2/91, were used to complete larger, more detailed paintings.