B.
The Eyes Have It
Blog
Commentaries on Doris Lusk's work often talk about her 'eye'; for telling details, for spatial complexities, for colour, for line. Many of those who met the painter personally remember her eyes too, but for a different reason, recalling how she would peer out inscrutably from behind thickly rimmed spectacles, with a gaze that was simultaneously intimidating and engaging. It seems appropriate then, that when Kevin Capon photographed Lusk in 1985 the result was this extreme close-up. After setting up his camera and lighting, Capon invited his subjects to approach the camera however they preferred, catching them in the act of looking back. Lusk's face fills the frame, the black lens of her glasses creating a portal-like opening, connecting us with her in that moment and suggesting both her curiosity and her reticence.
Related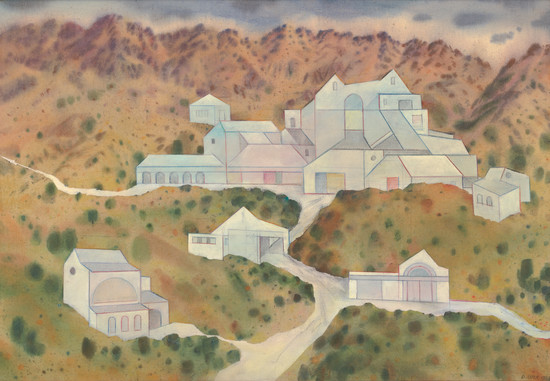 Doris Lusk: Practical Visionary
Intricate landscapes and imaginative explorations by renowned New Zealand painter Doris Lusk.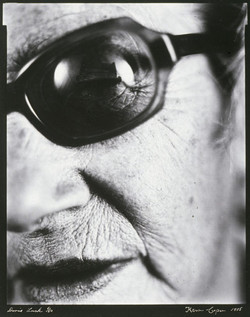 In the early 1980s Kevin Capon travelled New Zealand searching out interesting people to photograph. He met a wide range of personalities, from painter Colin McCahon, to architect Sir Miles Warren, Maori activist Dame Whina Cooper, Canterbury artist Doris Lusk and Maori film and documentary maker Merata Mita. Capon gave his subjects very little direction. Setting up a large format camera and lighting, he gave them the freedom to move up and confront the camera, creating a meeting between humanity and technology. The resulting photographs are honest and raw moments in time, every imperfection and pore of skin made visible. Kevin Capon studied at Wellington Polytechnic in the late 1970s and since then he has worked as a freelance commercial photographer, has taught at the Wellington Polytechnic and exhibited extensively throughout New Zealand. He has received numerous grants and awards, enabling him to travel to Europe and America. He currently lives and works in North Taranaki.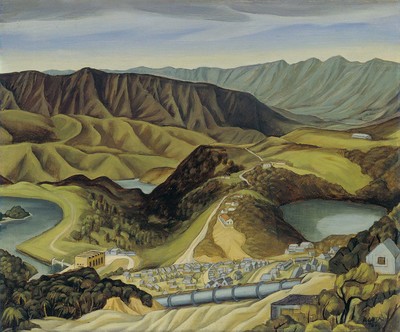 Doris Lusk: An Inventive Eye
In the strange, stunned afterlife that ticked slowly by in the first few years following Christchurch's February 2011 earthquake, a curious note of recognition sounded through the shock and loss. As a massive programme of demolitions relentlessly hollowed out the city, many buildings were incompletely removed and lingered on for months as melancholy remains – stumps abandoned in a forlorn urban forest. Hideous, sculptural, beautiful; they bore compelling resemblance to a body of paintings created in the city more than three decades earlier.