B.
The return of Ice Cream Charlie
Behind the scenes
One of the most cheerful symbols of Christchurch's long slow impetus towards recovery has been, for me, the return of Ice Cream Charlie to Victoria Square last week.
Before the earthquakes, the Vanilla Ices truck had been parked in its summer pitch near the river for as long as I can remember. Their familiar watery ice cream was a regular feature of my adolescence, an antidote to the hot dry nor-west winds that tear through the city in spring and summer. I always ordered the same thing, a single vanilla ice with raspberry topping (the server would bash the scoop of ice cream with the side of a spoon, squirting raspberry syrup from a big plastic bottle into the furrow. "Here you go! Cheery bye!").
In later years they added a kiwifruit sauce, but I never fancied that: an essential aspect of the Ice Cream Charlie experience was, for me, its unchanging nature. A venerable Christchurch cultural tradition, renewed with each order for a single scoop.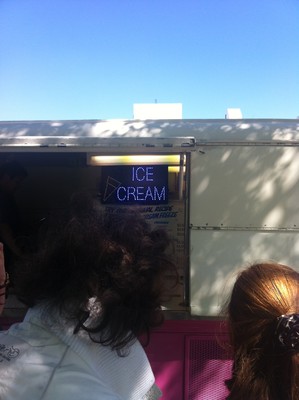 But following the Christchurch earthquakes of 2010 and 2011 and the closure of the central city, Ice Cream Charlie disappeared from the cultural firmament. Official encouragement to Raewyn and George Taylor, the proprietors, to try another site in the reopened CBD came to nothing: "We always wanted to go back to the spot," said Raewyn. "People know where we are."
And when the Taylors returned to their site on 1 November 2014, people came in their hundreds. At various points during their reopening weekend, the wait for an icecream was more than an hour and the line snaked across Victoria Square and back again.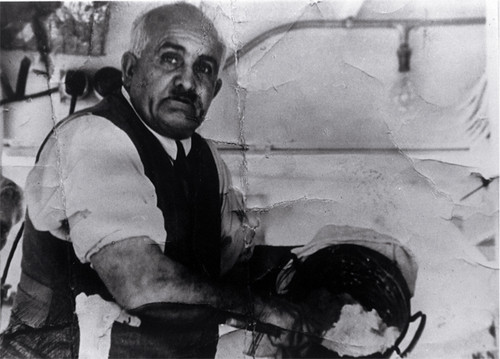 The Taylors are only the fourth owners of the Vanilla Ices enterprise in a century, making Ice Cream Charlie one of the oldest remaining businesses in Christchurch. The original 'Charlie' was a man named Sali Mahomet, who arrived in New Zealand with his father Sultan in about 1894, hawking goods around the South Island. Little is known about the Mahomets' origins: Sali told various tall stories about his age as well as his place of birth, which ranged from Ceylon, Arabia, and the Punjab to Ashkhabad, Russia (now Ashgabat in Turkmenistan). The Mahomets were Muslims at a time when there were very few living in New Zealand.
Sali had his first ice cream cart built in about 1903, painted white and bright red and picked out in decorative gold patterns. His original site was in Cathedral Square: he sold ice cream there from August to April each year for many decades. He made his ice cream from a wooden shed ("the dairy") behind his house in Caledonian Road, initially by hand in a milk churn, while the fruit syrups were made by a local wholesale druggist, H.F. Stevens. Electricity only reached as far as Bealey Avenue, so he arranged for a private line from the main road to his house when he bought a new Westinghouse ice-cream making machine.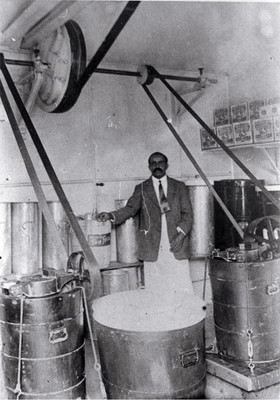 Sali Mahomet's original cart is now on display at Ferrymead Heritage Park. Perfected in 1907, his recipes for vanilla ice and fruit syrups—including my own favourite raspberry—continue to be used by the Taylors in their ice cream truck today.
We've lost so much of our material heritage since the Christchurch earthquakes that the return of Ice Cream Charlie is a significant moment: a part of the old Christchurch returning rather than being taken away.
Further reading about the original Ice Cream Charlie, Sali Mahomet:
Richard Greenaway, 'Sali Mahomet, 1866-1943', Christchurch City Libraries
Helen Solomons, 'Iconic Ice-cream Charlie, Cathedral Square', Lost Christchurch