B.
Vulcan Paradise by Jason Greig
Collection
This article first appeared in The Press on 5 April 2006

One of New Zealand's most significant contemporary printmakers, Jason Greig studied under Barry Cleavin and Denise Copland at the University of Canterbury School of Fine Arts during the early 1980s and graduated with Honours in Engraving. Throughout the 1980s and early 1990s Greig favoured more technically challenging printmaking processes such as etching and lithography as opposed to the less complicated medium of the monoprint. It is the monoprint however that he has worked with almost exclusively over the past thirteen years.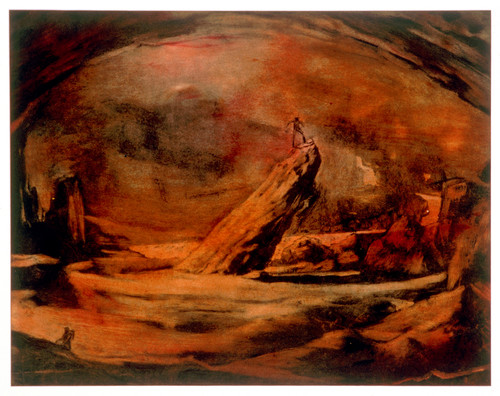 Also known as monotype, the monoprint is perhaps the most humble of printmaking techniques and is sometimes mistaken for painting due to the painterly like effects that can be achieved. Greig largely ignored the monoprint until 1993 when it was included as part of the curriculum for an art course he was then teaching at the Otago Polytechnic in Oamaru. His affinity with the monoprint was immediate, in particular the way in which it allowed him to expand on his excellent technical skills in drawing.
Greig's monoprints combine both a loose approach alongside more tightly controlled mark making and enables him to work with ease and speed. The result is more immediate than other printmaking techniques with the artist working ink directly onto sheets of formica, with cotton buds and rollers, from which a unique, one-off image is printed. The medium has given Greig the opportunity to work on a large scale and also to incorporate more colour into his work.
One of Greig's largest monoprints, Vulcan Paradise is the last image from a series of works based on a vast interior cavernous scene. A river of lava flows down a mountain in the background while the eerie lights of a far away citadel are just visible, perched on a high peak in the background. Vulcan, the Roman God of fire whose forge is located beneath Mt Etna, stands atop a rocky promontory surveying his smouldering domain in a dominant stance. He threatens to leap down and attack an awkward looking explorer, seen bumbling about in the foreground, oblivious to the imminent danger he is in and totally dominated by the landscape. Greig's works are often interpreted as being macabre and sinister but there is often also a wry sense of humour at play in many of his images.
In Vulcan Paradise the classical subject of Vulcan is represented with echoes from the 1959 movie version of 'Journey to the Centre of the Earth'. Greig is influenced by a huge variety of sources and readily mixes up traditional themes with contemporary culture. Respected master printmakers such as Rembrandt, Francisco de Goya and Charles Meryon sit alongside a wide range of classic horror movies including such gems as 'Hellraiser' and the original 'Phantom of the Opera'. Other influences, like the music and lyrics from heavy metal bands Black Sabbath and Blue Oyster Cult are just as important as great literature classics like Mary Shelley's 'Frankenstein', Edgar Allan Poe's 'The Raven' or Robert Louis Stevenson's 'Dr. Jekyell and Mr. Hyde'.
Vulcan Paradise shows Greig at his best, a printmaker exploring the range of possibilities offered by the monoprint to create a dramatic and powerful image.
Peter Vangioni