B.
If walls could talk...
Behind the scenes
... we'd all need ear plugs. Three smart locals talking about walls, though – that we're happy to listen to. Here they are (and cheers to Simon and Nathan for the camerawork).
Mr Youle on Sydenham, the toolbox of Christchurch...
Coralie Winn, on going for the gap...
And fearless local art-pugilist Roger Boyce, on how he learned to stop worrying and start liking mural art...
Related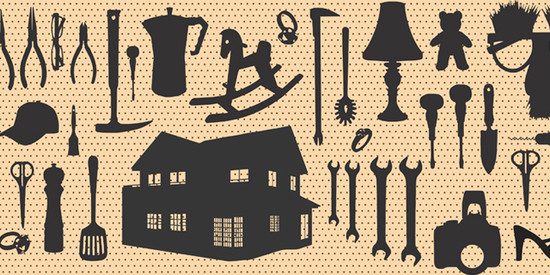 I seem to have temporarily misplaced my sense of humour
Stretching across a vast wall at the gateway to Sydenham, Wayne Youle's new public artwork is a shadowboard, where tools for rebuilding hang alongside many familiar but precious objects.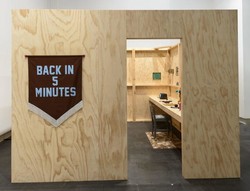 An obsessively ordered, subversively witty re-imagining of Wayne Youle's studio, ALONE TIME also evokes a more abstract space: the creative sanctuary any artist must carve out from everyday life for the serious business of making art. A bunker, a tree-house, a 'room of one's own', it's full to bursting with references to the humour, self-doubt and daily work ethic required to build and sustain an artistic practice – not to mention the magic wand.
(Unseen: The Changing Collection, 18 December 2015 – 19 June 2016)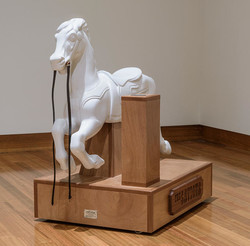 In the weeks and months that followed the devastating earthquake on 22 February 2011, many Christchurch people looked in vain for a 'hero on a white horse' to lead the city out of crisis. Galloping creakily to nowhere, Wayne Youle's riderless Saviour punctures the notion of a knight in shining armour. Instead, it emphasises his belief that this city's salvation lies in the hands of ordinary people: all those who stayed – through choice or necessity – and contributed to the recovery in countless, unsung ways.
(Unseen: The Changing Collection, 18 December 2015 – 19 June 2016)