B.
Heart in the high country: Austen Deans (1915 - 2011)
Behind the scenes
19 October 2011. Posted by Felicity Milburn
For Austen Deans, OBE, painting was an expression of his love of the outdoors and, in particular, the Canterbury high country.
Born at Riccarton House, Christchurch in 1915, Austin Deans grew up on the family farm near Sheffield in North Canterbury (and near Kowai, the subject of this 1952 painting). He trained at the Canterbury College School of Art between 1934 and 1938, where he continued his interest in the outdoors through membership of the College tramping club. As he revealed to Gallery director Jenny Harper in an interview for the 2007 exhibition Art School 125, he 'rather wished to be a mountain guide', but his mother dissuaded him from that early ambition. Though he 'loved sculpture', he majored in painting because it allowed him to work outdoors rather than being tied to a city studio.
Deans was the last of a generation of painters, which also included Bill Sutton, whose work was strongly focused on the Canterbury landscape. He will remain most well known for his paintings of Mt Peel and the surrounding area where he lived and worked for over 60 years. Deans excelled at the watercolour medium, combining his love of tramping and plein air painting to produce some outstanding views of the Canterbury high country.
'It was really my attraction to the mountains that started me painting' he said, 'and it's never left me'.
Click here to hear the rest of Austen's Art School 125 interview.
Click here to see all the works by Austen Deans in the Gallery's collection.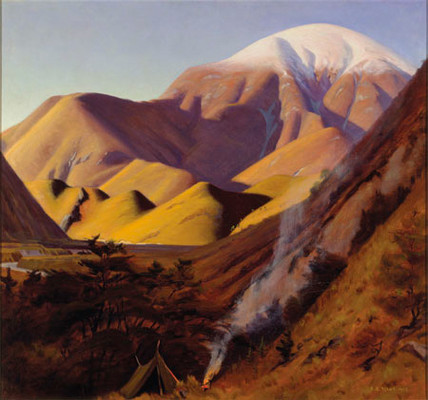 Related reading: In the Vast Emptiness