Bulletin Magazine
Bulletin 21
Download PDF
May/June 1982

Contents include:
Jubilee celebrations
Theft of Solomon J Solomon's Psyche
Philip Trusttum exhibition Supplement
Henriette Browne and La Lecture de la Bible - Essay by Julie King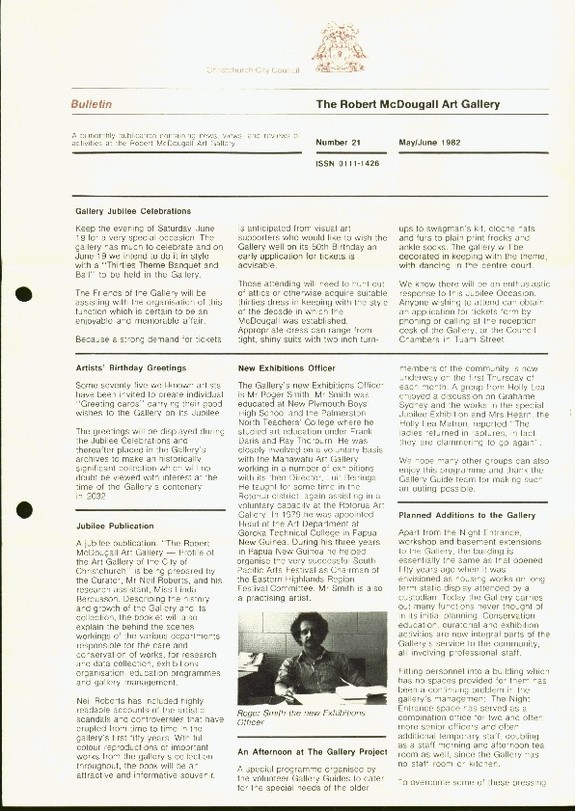 ---
Related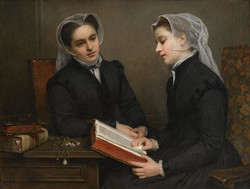 A painter of religious and Orientalist themes, Sophie de Bouteiller was better known by the pseudonym Henriette Browne, under which name she exhibited this work at the Paris Salon (as Les Puritaines) in 1857. It was purchased there by Empress Eugénie, wife of Napoléon III; they lived with this painting while in lasting exile in England after the Emperor's crushing defeat to Prussia in 1870.
Following Eugénie's death in 1920 it was sold at Christie's, London and went to a Sydney art dealer. After being shown in Dunedin at the 1925–26 New Zealand and South Seas Exhibition, it was purchased by Robert E. McDougall, donor of Christchurch's first public gallery, and became part of his extraordinary civic gift.
(Treasury: A Generous Legacy, 18 December 2015 – 27 November 2016)
First exhibited at the Paris Salon in 1857 with the title 'Les Puritaines', this painting has for many years also been known as 'La Lecture de la Bible'.
Robert McDougall Art Gallery Jubilee Exhibtion
During 1982 the Robert McDougall Art Gallery will have been established fifty years. An exhibition of important works from the public collection will be held in recognition of this event.