John Gibb - Lyttelton Harbour, N.Z. Inside the breakwater
Rugby player and coach Robbie Deans describes his first encounter with John Gibb's painting of Lyttelton.
Related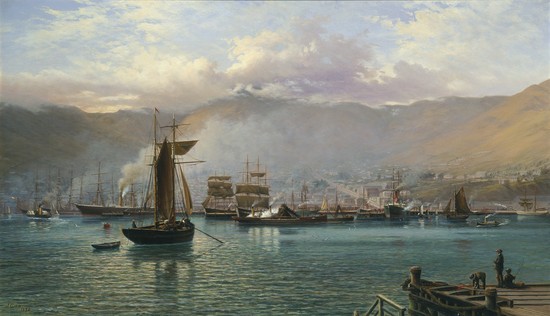 John Gibb
A selection of Canterbury landscape paintings by Victorian artist John Gibb.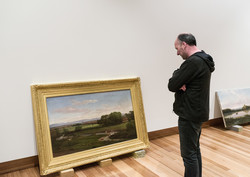 The way a work of art is framed affects our perception of the piece. A bad frame can detract and distract, a good frame enhances and even extends a work. While the Gallery has been closed we have updated frames for a number of works in the collection.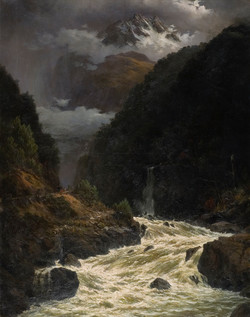 This article first appeared as 'Stormy weather' in The Press on 26 April 2013.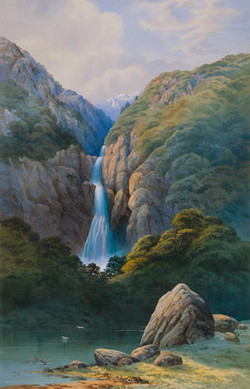 One of the great benefits of living in Christchurch, especially post February 2011, is the amazing alpine playground that lies within easy reach of the city – the mighty Southern Alps.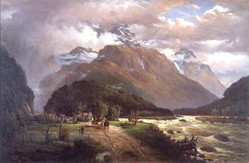 The wild and rugged mountainous landscape of Otira has captivated visitors since the first road was cut through the gorge in the mid-1860s. Otira is the Māori place name for this region and translates as 'the last rays of the sun'. It was a landscape that Gibb was drawn to, and he returned to paint it repeatedly throughout his career. An unforgiving place with high rainfall, rivers can rise suddenly and fill the gorge with the thundering noise of falling water. Gibb has painted the aftermath of one such storm in this work. The original Otira Hotel depicted in this painting was washed away when the Otira River flooded in 1886. (John Gibb, 18 December 2015 – 28 August 2016)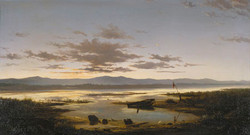 This painting was the first work bought for Christchurch's civic art collection, purchased in 1881 by the Canterbury Society of Arts from its inaugural annual exhibition and then given to the Gallery in 1932. Gibb loved sunsets; according to one family member he would drop whatever he was doing in the evening to watch and study the setting sun. His pleasure in the atmospheric effects of evening light is apparent here, as the last rays of the setting sun create an intense orange glow reflected on the clouds. The view takes in the estuary, also known as Te Wahapū, of Christchurch's Avon (Ōtākaro) and Heathcote (Ōpāwaho) rivers, looking west towards the foothills of the Southern Alps. (John Gibb, 18 December 2015 – 28 August 2016)
Gibb's view of the Canterbury Plains from the foot of Christchurch's Port Hills highlights the agricultural potential of this vast, flat expanse. The plains are also known as Kā Pākihi Whakatekateka a Waitaha, which translates from Māori as the seedbed of Waitaha (the region's early inhabitants). The region was a bountiful food source for the people of Ngāi Tahu, providing just as it does today. The cows standing in the middle of the gentle Heathcote / Ōpāwaho river in this painting provide a reminder, however, that this land needs to be respected if future generations are to continue to benefit from what Kā Pākihi Whakatekateka a Waitaha has to offer. (John Gibb, 18 December 2015 – 28 August 2016)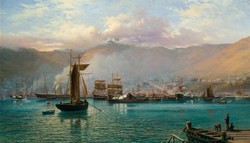 As with Petrus van der Velden's The Leuvehaven, this painting by John Gibb provides a view of a bustling port where ships come and go, unloading and loading their cargo. By 1886, when this painting was completed, the town of Lyttelton / Ōhinehou had been settled by pākehā for just over thirty-six years, and the port had become one of New Zealand's busiest. Lyttelton Harbour / Whakaraupō provided welcome refuge for ships from the Pacific Ocean beyond the harbour heads, particularly once the breakwater had been completed. Gibb's painting shows fishing boats, sailing and steam ships, a launch and even a rowboat plying the sheltered waters of the harbour, busily going about their business. It was first shown at the Colonial and Indian Exhibition at the Royal Albert Hall in London in 1886, where it would have served well in promoting the progressive industriousness of the port and the prosperity of the Canterbury Province to an international audience. (Reading the Swell 3 September 2016 – 6 February 2017)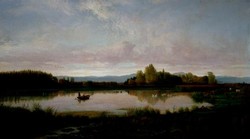 Bottle Lake used to be part of the Waitikiri swamplands that lay to the north-east of Christchurch. Before the land around the lake was purchased by English settler Edward Reece, twenty years before Gibb painted this work, this was an important area for Ngāi Tahu, being rich with eels and other fish – as referenced by Gibb's inclusion of fishermen catching an eel. Much of Waitikiri was drained and turned over to pasture – and, more recently, housing for Christchurch's growing population. A visit to the nearby Travis Wetland Nature Heritage Park gives the visitor some idea of what Waitikiri would have been like in the nineteenth century. Gibb was commissioned to paint Bottle Lake by William Reece, the son of Edward Reece. It is thought that the view is taken from Reece's homestead, which was also named Waitikiri. (John Gibb, 18 December 2015 – 28 August 2016)