Event
Closer: Curator Tour of Collection Favourites
Talk
Past event
Meet at the front desk
Free
Join the Gallery curators for this one-off tour of their personal highlights of the collection favourites in Closer: Old Favourites, New Stories
The tour will be followed by the chance to have a glass of wine and a chat about the Gallery collection.
Related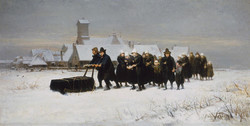 Research for the exhibition Closer (16 December 2017 – 19 August 2018) resulted in the restoration of this work's orginal title. In Dutch 'Begrafenis in den winter op het eiland Marken' and in English 'Burial in the winter on the island of Marken'.
---
One of Petrus van der Velden's most significant paintings, Burial in the winter on the island of Marken arrived in Christchurch several years before the artist. It was brought to New Zealand by Gerritt van Asch, the pioneering educator for the hearing impaired, who had purchased it from van der Velden in Holland sometime before 1879. Van der Velden himself arrived in Christchurch, sponsored by van Asch, in mid 1890 and made an immediate impact on New Zealand art circles of the time. His genre paintings like this one were widely appreciated by the public and the press often described him in glowing terms as a "distinguished Dutch artist". Holland's loss was New Zealand's gain and van der Velden went on to paint one of New Zealand's most significant bodies of paintings, his famous Otira series, from the late nineteenth century.
(New Dawn Fades, November 2018)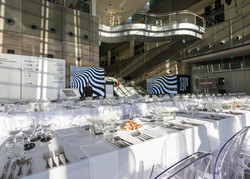 London's hottest chefs are coming to town – and you're invited to dinner!