2014
Oil on canvas
Purchased 2014
1640 x 1850mm
2014/045
Ōtautahi Christchurch-based artist Marie Le Lievre's Cerulean Slipping invites the viewer into the mysterious exploratory pleasures of her painting process. Employing crisp, hard edges alongside blurred boundaries and well-orchestrated liquid merge, it blends semi-controlled and unpredictable procedures. The result hints at mapping, rivers and flood plains, as well as chemical reactions or microscopic examination, while at the same time suggesting a multi-layered imaginative state.
(Perilous: Unheard Stories from the Collection, 6 August 2022- )
earlier labels about this work
Marie Le Lievre's paintings persuade and frustrate the eye, gracefully sidestepping our inclination to fasten them down with meanings. In this work, recently acquired for the collection, the intense, heavenly blue of the title gives way to a more turbulent and uncertain – though no less beautiful – surface.
Related reading: Unseen: the changing collection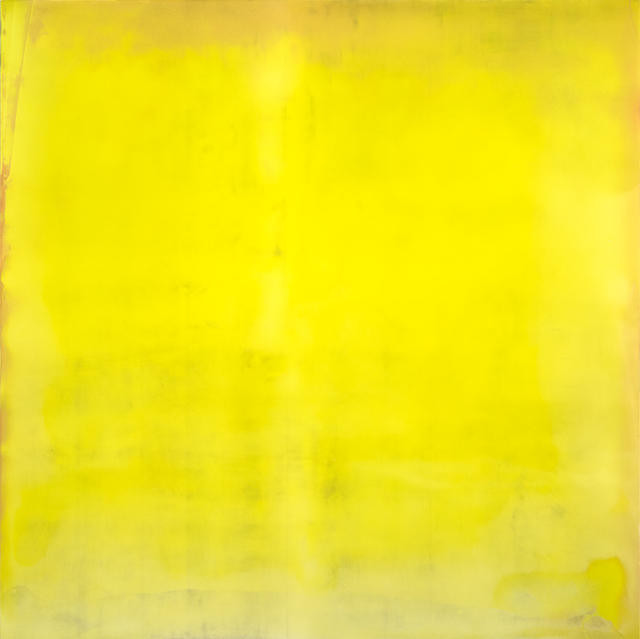 For the exhibition Yellow Moon: He Marama Kōwhai (28 October 2017 – 28 October 2018) this work was displayed with the following label:
How does it make you feel, this much yellow? Auckland-based Leigh Martin invites us into something big and simple – to feel and experience this colour strongly, up close, glowing, without distraction. Although minimalist it is not empty or silent, and feels generous; a vast surface loaded with carefully poured and layered colour.