B.
Populate! update #8 (face up)
Behind the scenes
26 April 2013. Posted by Justin Paton
The waning sun and lowering weather have one nice side-effect, which is to create the perfect conditions for viewing Peter Stichbury's backlit billboard NDE, newly installed on Worcester Boulevard.
We recently asked Peter whether he'd made a public work of art before, and he responded like so: "No, this is the first one. Making a show usually revolves around the relationship of each painting to the others and of the paintings to the given space, so a singular public artwork is a novel challenge. I think studio painting can look oddly disconnected when it's taken outside into daylight and forced to contend with the scale of nature and buildings. My particular kind of painting seems to need an internal architectural context to make sense, a quiet and protective incubator to exist within. Ironically one of the great things about this project is the opportunity to become unencumbered by the rules I create for gallery shows."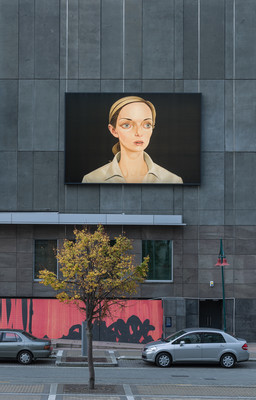 And what was Peter hoping this image would do outside that it wouldn't be able to do inside a gallery? "I'm hoping that being a large outdoor transparency will give the painting a mirage quality, the feeling of a technological deity on a giant computer screen looking over the nearby streets.... Public art does carry quite a burden—often a need for approval revolving around sensation and visual punchlines. But I like that it can also be enigmatic and mysterious. A giant floating portrait close to the heavens will probably elicit more questions than answers. Who is this? Why do they have that particular expression? I'm hoping it won't make much rational or narrative sense but will induce an uneasy emotional response, like witnessing a UFO."
Related reading: Unseen: the changing collection