Purchased with assistance from Gabrielle Tasman and the Christchurch Art Gallery Trust, 2014.
Furniture, fluorescent tubes, electrical components, wire, sheet glass
2014/035
2013
Bill Culbert made Bebop for a corridor in an old church in Venice, Santa Maria della Pietà, when he represented New Zealand at the Venice Biennale in 2013. He found the colourful tables and chairs in flea markets and at attic sales near his studio in the south of France. The title of the work comes from one of the tables.
We were collecting one of the Formica dining sets from a family in Caromb, a small town just south of Mont Ventoux. They brought it with them from Oran in Algeria when they moved to France decades ago, and they still had the receipt with the name of the furniture – Bebop! It was perfect. Charlie Parker, Dizzy Gillespie. The dancing was phenomenal. It really is about energy, noise… A very noisy work in a very silent space.
Bebop is a style of jazz that developed in the early 1940s. It's characterised by its fast tempo and improvisation where solos float free over the underlying structure of the song. Culbert's Bebop floats over the Gallery's stairs, a wild orchestration of furniture pierced by bars of white light.
Bill Culbert left New Zealand in 1957 with a scholarship to study at the Royal College of Art: he splits his time between London and the Vaucluse, with annual trips back to New Zealand. He's made installations using light and discarded objects – bottles, suitcases, jars, tables and chairs – since the late 1960s, exploring the ways that light and shadow transform the way we see the everyday world.
He describes Bebop as "a vortex of useable things that are out of place." The Formica and chrome surfaces reflect light, the tumbling furniture creating a sense of movement and energy that travels the length of the work. Culbert calls it kaleidoscopic: "as if they are on their way somewhere but not knowing where they're going."
Have a look at how this work was installed
The music is Goldsboro Express by John Coltrane, licenced through Youtube (hence the occsional ad).
Related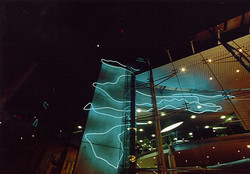 Knowing Bill Culbert will make a wonderful new piece for the Venice Biennale in June 2013 makes the impending demolition of Christchurch's Convention Centre somewhat more poignant for me. For it involves the end of his site-specific work, Blue, 2000 – in my view one of Christchurch's public art highlights.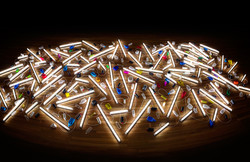 Christchurch Art Gallery senior curator Justin Paton has been appointed curator of New Zealand's presentation at the 2013 Venice Biennale. Deputy commissioner will be Massey University's head of fine arts, Heather Galbraith.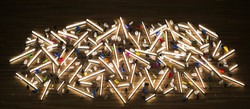 When I mentioned Neil Semple would be in Venice for the dismantling of Michael Parekowhai's On first looking into Chapman's Homer, I was a bit shy to say that I would be there too!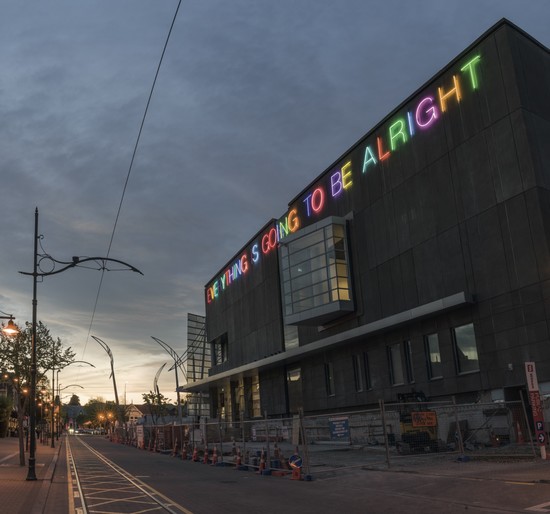 Everything is Going to be Alright
Martin Creed's completely unequivocal, but also pretty darn ambiguous, work for Christchurch.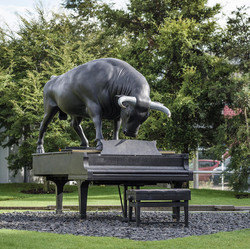 When 'Chapman's Homer' was exhibited at the edge of the devastated central city in 2012, it was positioned between ruin and rebuild just outside the cordon in an empty lot on Madras Street. Our bull stood beside his seated brother while a red carved Steinway piano was played upstairs in an adjacent building. Over thirty days, Parekowhai's work caught the public imagination as a symbol of the resilience of local people. At once strong and refined, a brutal force of nature and a dynamic work of culture, Chapman's Homer resonated with local audiences. Subsequently, a public fundraising campaign kept the bull in Christchurch.
Chapman's Homer was first exhibited in Venice, where Parekowhai represented New Zealand at the 2011 Venice Biennale. It travelled to Christchurch after being shown at the Musée de quai Branly in Paris. Over the past year, we've shown it at a number of sites around the city as part of the Gallery's Outer Spaces programme, including Worcester Boulevard, Placemakers Riccarton, New Regent Street, and most recently at Christchurch International Airport. And now the bull is back – standing strong in its permanent home at Te Puna o Waiwhetu Christchurch Art Gallery, welcoming visitors to our reopening exhibitions.
(December 2015)