B.
Going to Venice
Behind the scenes
When I mentioned Neil Semple would be in Venice for the dismantling of Michael Parekowhai's On first looking into Chapman's Homer, I was a bit shy to say that I would be there too!
However, I've agreed to be New Zealand's Commissioner once more and we're on the hunt for a venue for 2013. It will be a real pleasure to see and hear Michael's work again later this month – and also to see more of the 2011 Venice Biennale as I was quite busy when last there in May and June.
It's also good that Bill Culbert has accepted an invitation from Creative New Zealand to go to Venice in 2013 in good time to be involved at this stage. Alastair Carruthers and Jude Chambers (both CNZ), Bill and I will look at several possible spaces and no doubt talk about what he might make for June 2013.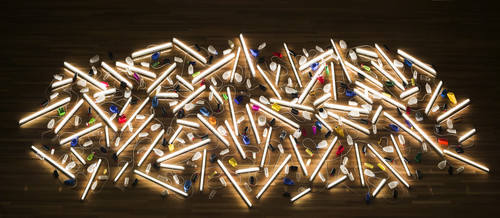 Bill constantly re-investigates how light works and refreshes how we think of it. He has lived away from New Zealand for a good long time now, but returns regularly and continues to have a dynamic presence in this country's visual arts. He's one of our leading senior artists and it's a perfect moment to celebrate his individual achievements as well as to continue to present the richness of this country's visual arts practice at Venice.