B.
Justin Paton appointed curator of New Zealand's presentation at the 2013 Venice Biennale
Gallery
Christchurch Art Gallery senior curator Justin Paton has been appointed curator of New Zealand's presentation at the 2013 Venice Biennale. Deputy commissioner will be Massey University's head of fine arts, Heather Galbraith.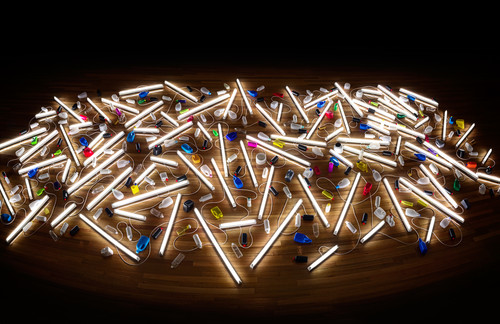 Following the announcement in October of Bill Culbert as the artist selected for 2013, the deputy commissioner and curator appointments were confirmed this week by the Creative New Zealand Arts Council and the 2013 Venice Biennale commissioner, Gallery director Jenny Harper.
Justin Paton, recently announced as the 2012 Katherine Mansfield Menton Fellow, is one of New Zealand's foremost curators, an award-winning writer on the arts, and a television presenter. His recent exhibitions include De-Building at Christchurch Art Gallery; Unguided Tours: The Anne Landa Award for Video and New Media Arts at the Art Gallery of New South Wales in Sydney; and Outer Spaces, the Gallery's current programme of post-earthquake public art and offsite projects.
Heather Galbraith brings a wealth of experience through her New Zealand curatorial roles at St Paul St Gallery and City Gallery, and as deputy commissioner for the 2009 Venice Biennale where she co-curated Francis Upritchard's exhibition Save Yourself. With her experience at New Zealand's 2009 Venice presentation and in London at Camden Arts Centre in the early 2000s, Galbraith also has strong international networks.
In September it was announced that a deputy commissioner for 2013 would be appointed to support the work of the commissioner, and gain knowledge and experience of exhibiting at the biennale.
Commissioner Jenny Harper said: 'I'm delighted Heather has accepted the deputy commissioner role. She was a key part of a very successful presentation in Venice in 2009, and her energy and know-how will be central again in 2013. It is crucial that New Zealand builds and expands its pool of knowledge and experience for this and future biennales.'
The curator will support and collaborate with the artist during the development of the new work and its installation in Venice, and will write for the exhibition catalogue, blog and website that will be part of the 2013 presentation.
Jenny Harper said: 'As a curator and communicator, Justin is a great addition to the team. Bill was very keen to have him involved, as they have worked together before, and Justin has written about Bill's work on many occasions. Justin has a record of working closely with artists on ambitious new works in challenging settings. His experience as a presenter, editor and writer will ensure the information around and beyond the exhibition is clear and compelling.'
Several venue options are currently being explored for the 2013 exhibition.
'Space is scarce and fiercely competed for in Venice, so we have begun looking as early as possible. There are some exciting possibilities. Bill is an artist who responds very closely to a given space, and we are keen to confirm a venue and allow him to respond directly to it. Many of Bill's most fascinating works have appeared in settings that are not traditional white-cube spaces. It's exciting to imagine the play-off between his illuminated sculptures and the historic textures and surfaces of Venice,' said Jenny Harper.
The exhibition manager and venue attendant roles will be advertised in early 2012.