2010
Gesso, red bole clay, Swiss gold leaf on wood panel
Purchased with the support of Christchurch City Council's Challenge Grant to the Christchurch Art Gallery Trust, 2011.
1524 x 1524mm
2011/221
At its simplest, a quatrefoil is constructed from four perfect, intersecting circles. Found in both Eastern and Western religious art, it has also been used to order and understand the physical world, most familiarly through the quartered segments of the clock and compass. Once described as a secular artist with a great respect for religious traditions, Max Gimblett has frequently opted for this shape over the more usual – but no less arbitrary – rectangular canvas. Here he combines it with gleaming gold leaf that has been finely scored to create a painting that seems to rush out towards us while simultaneously drawing us into its centre. Though his work is abstract, Gimblett's title summons up the view of an enthroned Christ as depicted by the early Renaissance painter and friar Fra Angelico; surrounded by a shimmering aureole of golden light, radiating knowledge, power and glory.
(Unseen: The Changing Collection, 18 December 2015 – 19 June 2016)
Related reading: Unseen: the changing collection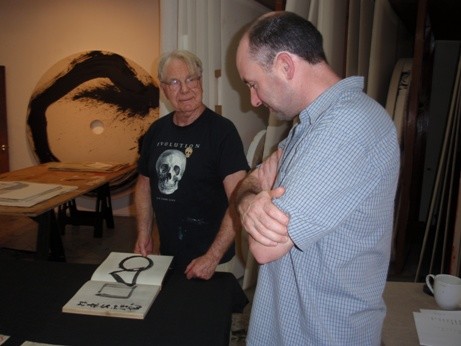 Having the opportunity to spend over a week in New York recently to work closely with the artist Max Gimblett and his studio assistants in making a selection from Max's extensive collection of works on paper for a gift to Christchurch Art Gallery rates as one of the highlights of my job as a curator.