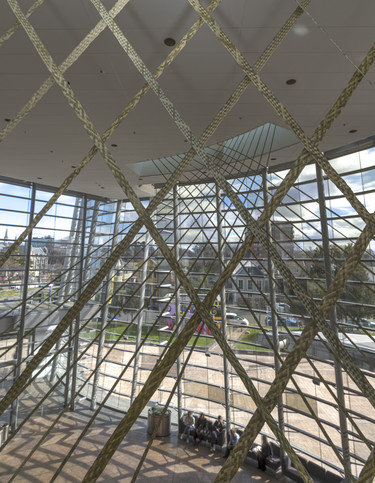 Director's Foreword
Welcome to the summer 2022/23 issue of Bulletin. Since our last magazine was published I've been enjoying the view from my office window, which takes in a new installation that fills the high void above the Gallery's reception desk. Tīkawe is the first work the Mata Aho Collective have created with harakeke, braiding 530 metres over several months. An exceptionally beautiful addition to our foyer, it's lovely to watch the shadows Tīkawe casts move and morph as the spring sun tracks across the sky. My thanks to the W. A. Sutton Trust for funding this new commission and addition to the Gallery's collection.
Behind the scenes at the Gallery, excitement has been building over the last few weeks as we prepare to open three new exhibitions for the summer. Brett Graham: Tai Moana Tai Tangata was developed in collaboration with Anna-Marie White (Manukorihi, Te Āti Awa), and first presented at the Govett-Brewster Art Gallery in Ngāmotu New Plymouth. For its showing in Ōtautahi Christchurch, Brett Graham (Ngāti Korokī Kahukura, Tainui) has created an incredible new sculpture that grounds the exhibition in this place and explores connections with the nineteenth-century New Zealand Wars, including the Crown's invasion of the pacifist settlement of Parihaka in 1881. Brett draws our attention to how these events still resonate here, in particular through the imprisonment of approximately 160 Taranaki Māori on Ripapa Island in Whakaraupō Lyttelton Harbour. For this issue of Bulletin we've commissioned an essay from renowned historian Vincent O'Malley, who explores this less well known episode in our colonial history.
More new work is on view in James Oram: By Spectral Hands. Ōtautahi Christchurch-based artist James Oram has created an exhibition that he describes as an ecosystem, using four separate sculptural and video works that together examine consumer capitalism and demand, and the marketing techniques that drive them. James focuses on the ideas of Edward Bernays, who is often referred to as the father of public relations – it was Bernays who was responsible for early tobacco advertising campaigns that encouraged women to smoke their "torches of freedom" and helped give smoking an aura of coolness. For Bulletin, the exhibition's curator Melanie Oliver examines the ideas behind the show.
Originally scheduled for April 2022, but delayed by Covid, Turumeke Harrington: Tātou tātou, nau mai rā will be a playful, interactive sculpture that invites us to think about whakapapa, connections and choices. Turumeke Harrington is a Te Whanganui-a-Tara Wellington-based Kāi Tahu artist, and in her hands- on, make-your-own-rules show specially designed stanchions create an ever-changing network of pathways for visitors to navigate around. We asked Ōhinehau Lyttelton writer Rebecca Nash to write a piece inspired by some of Turumeke's themes of travel and immigration, such as 'who gets to go where', nostalgic memories of 4am flights and the experience of waiting in airport queues.
The Friends of Christchurch Art Gallery was established in 1971 to support the Gallery, and over its fifty-one years the organisation has made a huge number of generous donations that help us to do what we do. Most recent among these was the gift of twenty-five works made by women photographers of the 1970s and 1980s, given in recognition of its fiftieth anniversary. A number of these photographs are currently on display in Perilous: Unheard Stories from the Collection. Melanie Oliver looks at the way these artists worked to destabilise traditions and undermine patriarchal expectations.
Also on display in Perilous is a selection of prints by Russian avant-garde artist and designer Natalia Goncharova. We asked novelist and art writer Thomasin Sleigh to consider the life and work of this ambitious and dynamic figure, for whom the Russian term vsechestvo, or 'everythingism', was coined. And curator Ken Hall does a deep dive into Father's Tea – a work by Elizabeth Graham Chalmers that the Gallery was recently given by the artist's granddaughter.
Over the years, the Gallery's collection has benefitted hugely from the exceptional generosity of respected researcher, author, retired lecturer and collector Roger Collins. For this issue, we invited Roger to write our My Favourite and he has chosen a work by Charles Meryon. Our Pagework comes from Ōtepoti Dunedin-based artist Madison Kelly, whose drawings of ika come from observing complex and threatened ecosystems in our damaged landscapes.