Margaret Hudson-Ware's Let me see the paralysed man walk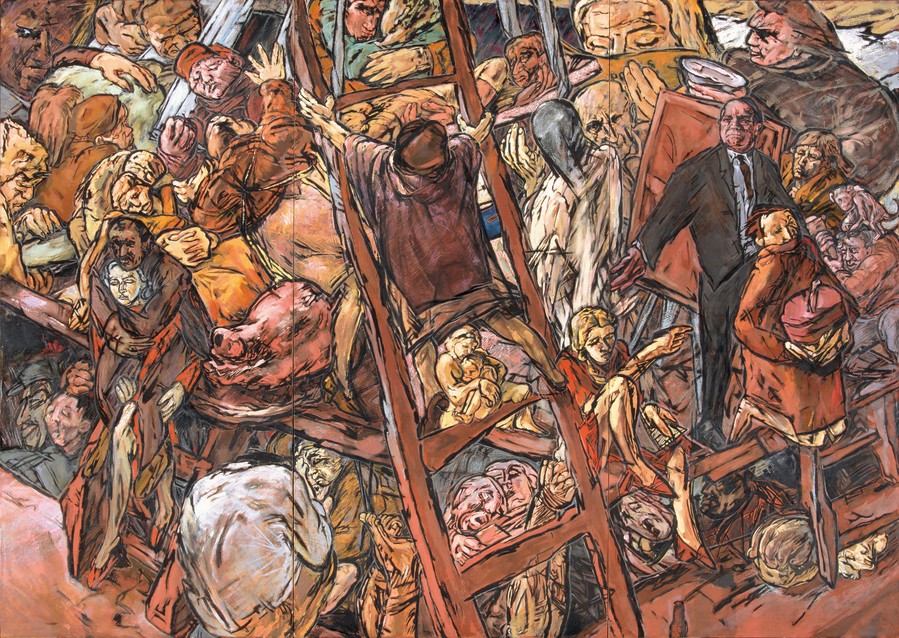 Of the many pieces I love to visit at the Gallery, Let me see the paralysed man walk by Margaret Hudson-Ware is particularly special to me. "Ms. Hudson-Ware" was my art teacher from age 14 to 17 at Cashmere High School. She was a very stylish, bird-like woman – a kind of Coco Chanel in a pant suit. In the eighties, she managed to look utterly timeless; she sculpted her cheeks with burnt umber blush, a colour I could only imagine she'd mixed herself. The whole palette of her clothes and make up was very much what you see in the colours of this work.
She influenced me greatly in those years of learning about art. She made us fill the page – be bold, she would say. Be bold! What a message to give to a young girl. Look at what Max Beckmann does, she told us, he fills the scene with jutting angles! No tiny little scared scribbles, just large, bold scenes crammed with gesture and energy. I was ranked last in art at the start of that first year; by the end of the year her teaching had inspired me so much that I was first. We all wanted to please her. I'd spent the whole year terrified of her, but I remember her saying to me at the end that she appreciated how much hard work I'd put in. Hard work? Who knew that hard work was what art was all about? I thought you just got to muck around with paint! That work ethic really set me up for a life in music. I learned you really had to put your back in to what you did, and work, work, work.
It wasn't until after I'd left school that I saw a retrospective of her work at Christchurch Art Gallery. Standing in front of her painting now, I feel proud to have been taught by her. Her influence on me was profound, and through her work I see that everything she ever said made perfect sense. Be strong, be bold! Fill the page! Work hard! Don't apologise! To this day I don't know where her drive came from, but she really had a lot of it. The ultimate hard-working female artist with so much fight in her.