Tony de Lautour's Underworld 2
Underworld 2 is a must-see. I know, I know. Everything is a must-see or a must-read or a must-do in this society of superlatives and imperatives. But you really do need to be in the same room as this work. Underworld 2 is immense. You need to be in front of it—to be immersed, to be overwhelmed, to be confronted. I start at the left-hand side and plot my journey as if I am planning a road trip and this is my map; first south around the mountains, turn left, then keep going until you pass a lion on the right-hand side. Stop and take in the scenery, go down a dead-end road or two. There's no rush. You'll know when you're there.
De Lautour is one of the few Christchurch artists to have produced important work both before and after the quakes. While his more recent works have seen his palette include pastels and road-cone orange, this limits itself to chalky whites, spots of blue and some wood panelling. Underworld 2 was completed in a studio that no longer exists, in a city that no longer exists. It is Christchurch before the fall; a dark, grid city, punctuated by order and symbols. Like the city in the decade before the quake, the beauty is in the chaos, the space between; the scenes that don't feature on the tourist brochures or tacky postcards.
There is rhythm to the randomness—music has always played a strong part in de Lautour's practice. Phrases from bands such as LCD Soundsystem often materialise in his work. In 2009, the Physics Room hosted a show called b-sides and demos, a tongue-in-cheek reference to the way that some bands will release non-album material. The show shone a light of de Lautour's process by collecting doodles and sketches that might not usually see the light of day.
I'm not sure what the title Underworld 2 means, but it doesn't really matter. In a painting that is so packed with imagery, you can find your own. I see the word TRANCE, all caps, streaked as if it were partially erased, and think back to nineties dance music pioneers Underworld. After spending the eighties making guitar music of little interest, they found success by getting rid of the instruments, producing thumping club music laced with lyrics seemingly about nothing: skyscrapers, Walmart, cowbells, fishing vests. But like de Lautour's painting of the same name, their music is more than just a random collection of symbols and gestures deployed without meaning. There's a pattern, something to be decoded—and I've got no idea what it is. Every time I engage with it, I find a clue that takes me closer to its truth, and another that takes me further away.
Related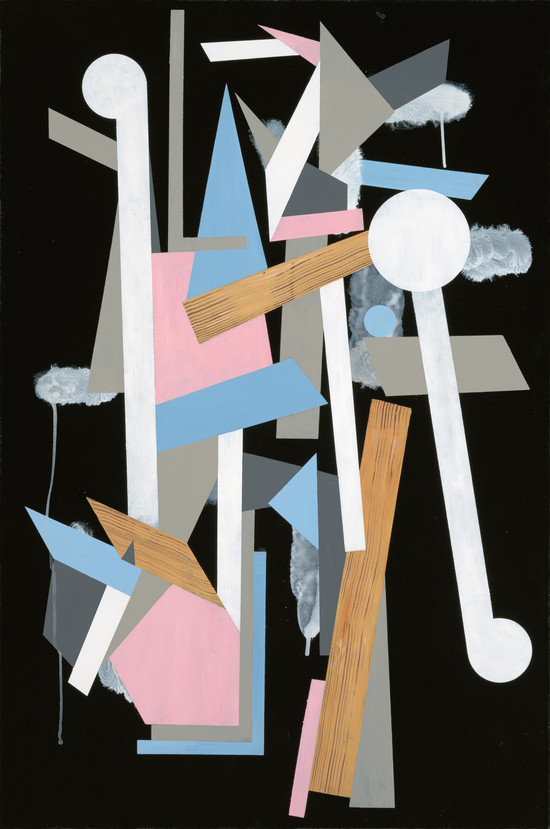 US V THEM: Tony de Lautour
Welcome to the low brow, high art world of Tony de Lautour's paintings, sculptures and ceramics.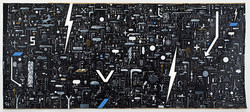 Underworld 2 was painted in Tony de Lautour's central city studio, a converted office building in pre-quake Christchurch. It was very nearly the same size as the wall on which he painted it. "It was the weirdest and most uncomfortable studio I've worked in, all brand new carpet and white walls that I had to cover with plastic, and surrounded by people paying huge rent to sit in those doomed-to-fail small businesses."
De Lautour started painting in the top left corner of the canvas, and worked from left to right, down and along, gradually filling in the canvas with what looks like a mind map or a complex diagram of related forms. A giant flickering screen of digital code, perhaps, in which every line is of equal importance. He used a similar approach for several works of the time: "It seemed more factual to do it like handwriting. It also took away some of the compositional decision-making that can hinder a work."
One of the largest paintings in the Gallery's collection, Underworld 2 is a vast lexicon—a visual index—of the forms that have populated de Lautour's works over the past twenty-five years. Lightning bolts, human heads, lions, empty speech bubbles, trees, mountain ranges, cobwebs, stars, smoke plumes, letters, numbers, crucifixes and dollar signs float freely in black space, a universe of symbols drawn from both ends of the visual register—from home-made tattoos to modernist abstraction by way of colonial landscapes.
De Lautour's work has never been linear in its development, instead looping and swirling back and forth, picking up old ideas and deploying them in new contexts, reworking recent concepts in the light of earlier enquiries. Underworld 2 is like a stocktake of his pictorial inventory, humming with the energies of an immense cultural network. (Your Hotel Brain 13 May 2017 - 8 July 2018)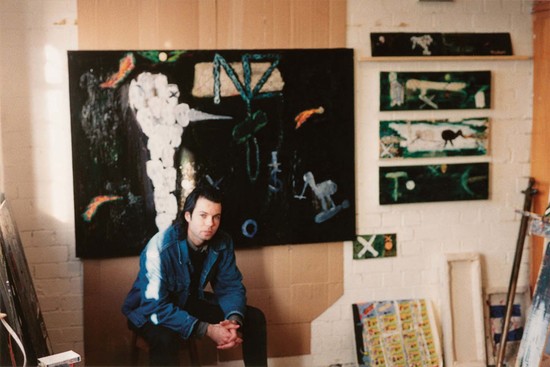 Driving Without a Licence
Peter Robinson: I may be wrong about this, but I believe that we were the last generation to experience the primacy of painting at art school. What I mean by this is that when we were at Ilam, students had to compete to get into departments. As crazy as it sounds now, there was a very clear hierarchy: painting was the most popular discipline and afforded the most esteem, sculpture second, then film, print, design and photography somewhere down the line. Can you remember why you ended up choosing sculpture? And furthermore why you ended up being a painter? Do you think your training as a sculptor affected the way you think about or approach painting that is different to someone who was trained formally as a painter?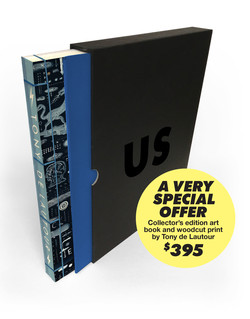 $395.00