Director's Foreword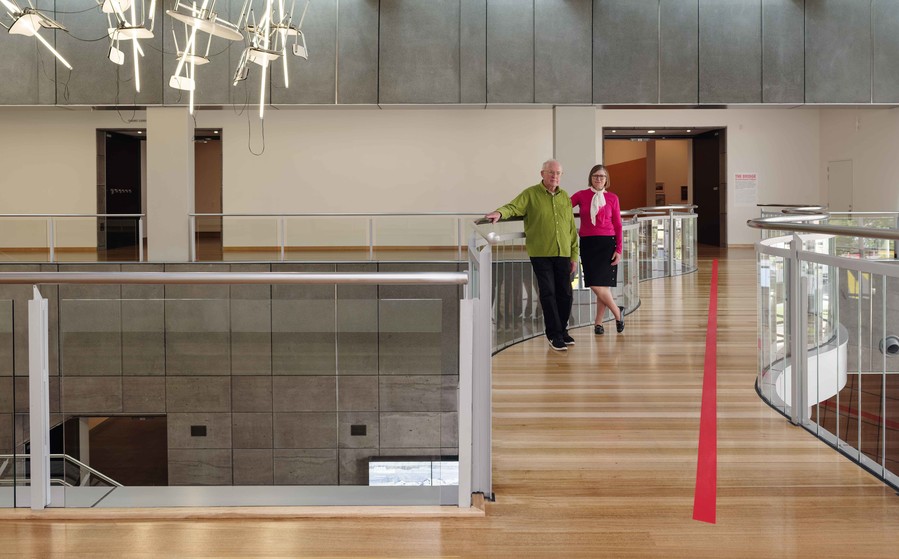 It is exactly ten years since I wrote my first foreword for Te Puna o Waiwhetū Christchurch Art Gallery's Bulletin. Then, the shadow of an elongated sculpture by Swiss sculptor Alberto Giacometti featured on the front cover of B.147, as we heralded the arrival of Giacometti: Sculptures, Prints and Drawings from the Maeght Foundation in November 2006. Toured by the Art Gallery of New South Wales, it was memorable and moving, and looking its very best here in our high-ceilinged and relatively new gallery spaces.
It's hard to fathom just how much has happened since, both in and around our inner-city art gallery. In particular, I look back on our five years of closure with a mixture of wonder and disbelief.
Now that the Gallery is open again, however, and almost fully operational, there's not as much personal time to recollect and analyse life before 2010–11. We can look back and regret lost time, but it's clear that our belief in the creativity of artists and how much good art really matters in this community has never wavered. As one visitor wrote recently in our comments book, 'Thank you for providing this rising from the rubble, glorious city with a wonderful place for art lovers and explorers to go.'
Such notes help us move forward with the determination that has marked the wonderful contributions to Christchurch made by our staff over the last ten years – both closed and open. So, it's pertinent now to note that two exhibitions we're presenting during the summer period, and which we feature in B.186, have histories that go back to the days before our reopening.
The first is Energies by Australian artistic duo David Haines and Joyce Hinterding. Like Giacometti before it, this exhibition hails from Sydney – it is toured by our colleagues at the Museum of Contemporary Art. But the larger project is itself the development of another, which was originally first scheduled for Christchurch in 2012 – a key work in the exhibition, Geology (2015), has at its core a series of electromagnetic readings made by the duo on a research trip to our then-closed Gallery in 2011. We welcome them back!
In addition, we are presenting the work of Lisa Walker, an artist who pushes the boundaries of what is wearable in jewellery. An exhibition of Walker's work was also a casualty of the many enforced changes to our exhibition schedule as we anticipated and planned numerous reopenings in 2011–12. So it's good to finally exhibit her work and to hear also from curator Felicity Milburn, who looks at her practice in this magazine.
We investigate recent strategies in New Zealand photography with the work of nine emerging and early-career photographers and photomedia artists, viewed through the lens of their contemporaries. Each work is accompanied by a short piece of writing commissioned from a peer writer. And we have an interview with veteran Australian musician and sound artist J.G. Thirlwell, who talked to writer Jo Burzynska before his performance at the Gallery in June this year.
Our Postcard is from Liyen Chong in Houston, Texas, and Pagework is supplied by Christchurch artist Hannah Beehre, recently awarded the Parkin Drawing Prize.
By the time you read this, we will have reopened (fingers crossed) the car park under this building. With two new works connecting the car park to the world of art above, artists Marie Shannon and Séraphine Pick join Reuben Paterson in expanding our view of what's possible in lifts. We hope you enjoy them.
And, in time for your Christmas shopping, our Design Store is open, its sleek interior designed by award-winning Auckland designer Jamie McLellan. In keeping with the building's exterior, some of the furniture features a base of bluestone, and on one wall it boasts a delightful graphic freshly made in the space by street artist Andrew J. Steel. It's so good to have these facilities operational again and, in the next while, I hope to bring good news about a potential new operator for our café!
At this time of year, it's fitting to thank our volunteer guides for their unstinting service. Thanks also to the Friends of Christchurch Art Gallery for their great support, and simply for hanging in there with us. These have been difficult years for all of us, but especially for voluntary organisations.
Finally, thanks to our Foundation's board of trustees and to Brown Bread, who support their fundraising endeavours. The 2016 Foundation Gala Dinner on 15 October was second to none. Along with Foundation chair, Mike Stenhouse, I'm delighted to note that the TOGETHER endowment is now fully subscribed and that our fourth major work of art will be a wall painting by the renowned and extraordinary English artist Bridget Riley. On your behalf and mine, I thank all the generous women who are making this great work possible and look forward to sharing more with you all as the artist's thinking progresses.
For me, the last ten years have been completely unpredictable, but also very good. Two others, deputy director Blair Jackson and projects and operations manager Neil Semple, started at this amazing art gallery only one week after I took up the role of director and we have shared the highs and lows. It's been a memorable expedition with them and all of our colleagues, past and present.
Thanks also to all of you, our loyal supporters and readers. I hope the new year is all you and we wish for.
P.S. I am rarely photographed with artists or with individual works of art. But, for Billy Apple, exceptions are made. And the end of his Great Britten! (which we knew he was coming to see again) seemed too good an opportunity to miss. Here Apple suggests a simple alteration to the Gallery's wavy bridge to make this feature less visually intrusive. He proposes straightening the curves to ease the path between the galleries on either side of our balcony. Who knows – one day, it may happen!