Direct to You From Henderson
via Venice and Paris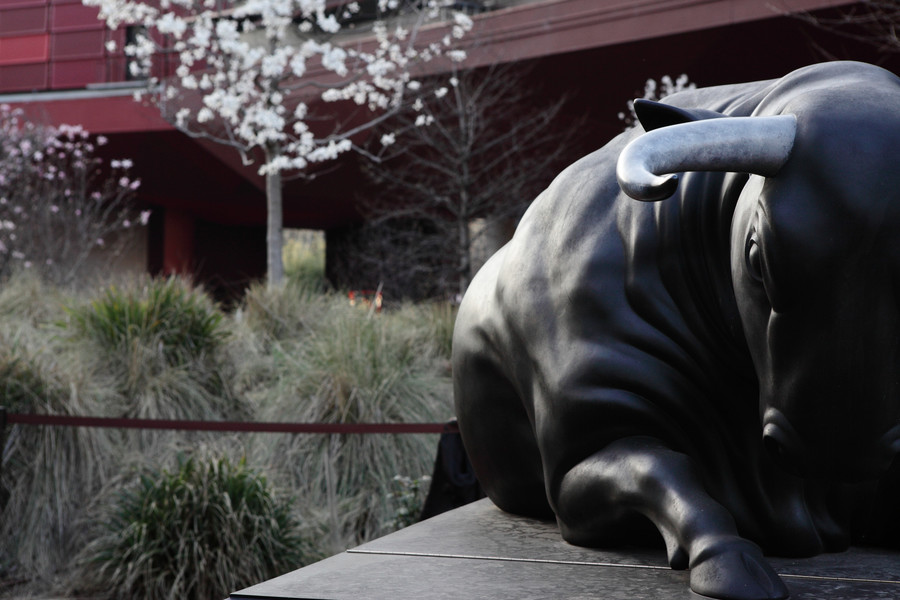 On 11 February 2011, in a cliff-top house overlooking the Avon/Heathcote estuary in Christchurch, Michael Parekowhai offered an invitation. It was to the unveiling of his Venice biennale-bound installation, On first looking into Chapman's Homer, to be held in Henderson, near Auckland, on 13 March. But just eleven days later, that house and the city of Christchurch were turned upside down, and the future many of those present had been looking forward to that evening was upset.
To get to Henderson you head north-west out of Auckland. An unremarkable suburb of semi-industrial workshops and vehicle yards, shopping centres and streets of houses, it also holds a few surprises. The largest film studios in the country are there; so too are a thriving farmers' market and, around the corner from his studio, the converted car-paint spray shop where Parekowhai was to first show Chapman's Homer.
Parekowhai's project involved a lot of people. By the time you add in families and neighbours, friends and supporters, you are talking about a large community around this work. The acknowledgements in the accompanying publication listed 185 individuals and organisations—the core of the people Parekowhai welcomed and acknowledged in Henderson. Conventionally the work would have been revealed at the Venice biennale but the artist was adamant: Chapman's Homer had to be seen, heard and experienced first at home. And home was Henderson, New Zealand.
Despite broken homes, tenuous job prospects and nerves unhinged by constant shaking, a number of people from Christchurch did still make it to Auckland. Gallery director Jenny Harper was there; so too were gallerist Jonathan Smart and sculptor Neil Dawson as well as a number of patrons and supporters. Christchurch was definitely in Henderson that day.
Now, one year later, On first looking into Chapman's Homer returns to New Zealand to be shown in Christchurch. As Commissioner for New Zealand to the Venice biennale, Jenny Harper always wanted the work to be seen in her home city and following the earthquakes that determination hardened. Okay, Christchurch Art Gallery might be closed and venues for art events hard to find, but Christchurch was going to be the place to welcome this major project home again.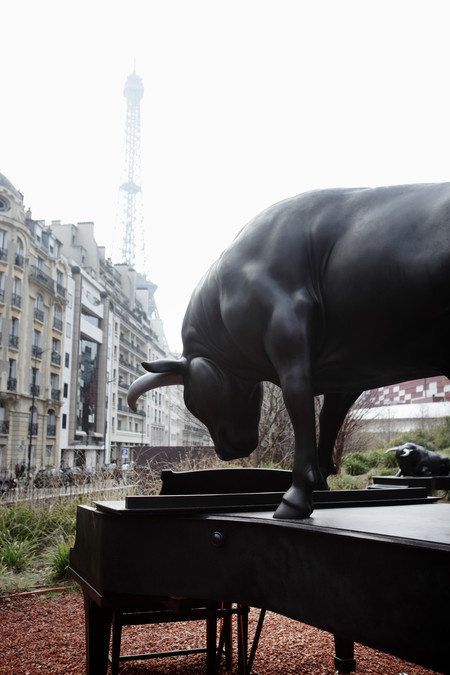 The version of Chapman's Homer to be shown in Christchurch is different from the Henderson version in one major dimension. Before the work headed for the Venice biennale, after an intense weekend of tuning and playing, Parekowhai painted the glossy black carved piano, He Kōrero Pūrākau mo Te Awanui o Te Motu: story of a New Zealand river, red. That was a bit of a shock. The resonances of nineteenth-century romanticism were abruptly terminated, the repertoire updated and the piano reclaimed from the musicians as a sculpture. The Venetians, of course, were convinced that the new colour scheme was nothing more than an appropriate nod to the red of their republic. But Venice was not to be the end of the European adventures of Chapman's Homer, as Jenny Harper found another venue in the Quai Branly Museum in Paris.
Back when Te Maori was astonishing New Yorkers in 1984, Sydney Moko Mead explained in the accompanying catalogue that over time an object becomes invested with interesting talk. Well, the Quai Branly is a place for that from a Māori perspective. The museum itself is caught somewhere between proposing a post-colonial ethic and still featuring its artefacts spot-lit in darkened galleries. This 1970s theatrical style is strange in the spectacular building; designed by Jean Nouvel and opened in 2006, within its sweeping ramps and surprising views the 'finger of God' displays feel like punctuation rather than narrative. It would certainly no longer fly in New Zealand, where in most museums the lighting is at a more even level. Parekowhai got the picture and sensibly opted for his two bronze works to be installed outside in the daylight.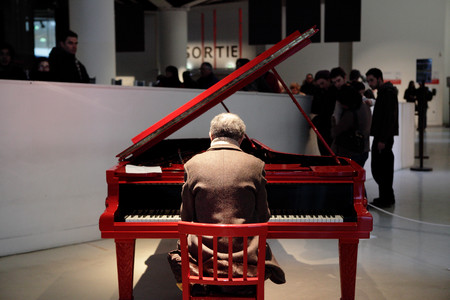 This time Chapman's Homer was presented in distinct parts. The bronze pianos with their bulls were located in the grounds surrounding the building, and it was not until visitors walked into the museum itself that they were greeted by the sound of the carved piano. Of course much of the talk around this piano up to now was invested in the carvings. Back in Henderson we saw Parekowhai's father George gently tracing their twists and turns with his hand to 'read' them as though they were a picture book. Parekowhai has always heroicised the small and the marginalised in his work (sparrows, kids' toys, rabbits, a small painting by Colin McCahon, the overcoated and bowler-hatted figures from René Magritte's 1953 painting Golconda). How better to export this signature style than by than smuggling the modest story of his family into an artwork on display in the show-off intellectual centre of Europe?
All that said, Michael Parekowhai's work hasn't always been welcomed with open arms in Christchurch. Of course he didn't necessarily make it easy. Once he proposed that Cathedral Square host a couple of giant cartoon rabbits and later that a copy of the Marcel Duchamp readymade urinal Fountain replace the city's own Stewart Fountain. In the Christchurch of 2012 these locations are both unrecognisable but Parekowhai is back again—his distinctive challenges and assertions in full force in the wit and polish of Chapman's Homer.
After its long journeys to the Old World, On first looking into Chapman's Homer is home again. And that home, for this moment, is the city of Christchurch.
Jim Barr and Mary Barr
Jim Barr and Mary Barr have been collecting contemporary art since the early 1970s. Michael Parekowhai: On first looking into Chapman's Homer will be in the NG space from 29 June to 29 July.