B.
Morose Jester
Collection
An early work by Sydney Lough Thompson (1877-1973) is a recent addition to the collection, having been left to the Gallery by generous bequest.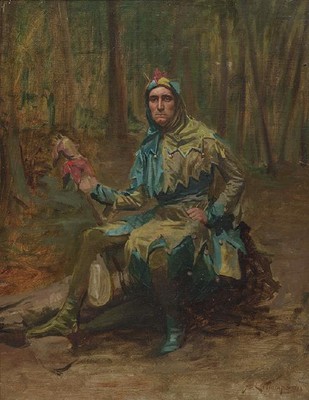 Thompson's unusual choice of subject would seem to evade easy explanation, but is likely to have been made during Thompson's years studying art in Christchurch, either at the Canterbury College School of Arts, which he attended 1895–97 and 1900, or at private classes operating from 1894 at Petrus van der Velden's studio. Thompson left Christchurch in 1900 to study in Paris, returning from Europe in 1905 to join the staff at the School of Arts as Life Master from 1906–10. He and a group of fellow artists formed an Artists' Sketch Club who met regularly at his studio at 97 Cambridge Terrace (these included Cecil Kelly, Raymond McIntyre, Alfred Walsh, W. Menzies Gibb and Leonard Booth).
The abandoned fool would have been intended as an imaginative subject for students or Thompson's fellow artists to work with, but was evidently art directed into solemnity, or perhaps didn't quite enter into the spirit of the thing. He finds suitable company in a modest gathering of Jesters, Pilgrims and Fools from the collection.
Sydney Lough Thompson later established himself in Concarneau, France.