B.
To the Castle, Corfe by Frances Hodgkins
Collection
This article first appeared as 'Cultural capital' in The Press on 7 December 2012.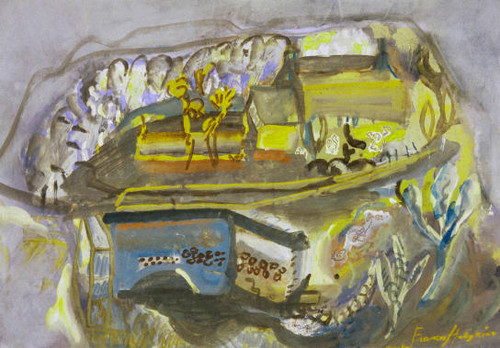 The Christchurch Art Gallery holds several notable late period paintings by New Zealand's most successful expatriate artist Frances Hodgkins (1869-1947) including To The Castle, Corfe. Painted in 1945, just two years prior to her death, this work is amongst some of her last paintings completed over a career spanning some five and half decades. Hodgkins spent much of the late 1930s and 1940s based at the small Dorset village Corfe Castle. It was not a location she particularly favoured writing to a friend that "Corfe cannot in any way be called stimulating" but one that she settled into and spent the last years of her life. which is surprising given that she completed some of her most accomplished and I think interesting works from her last years when based in the village. Hodgkin's work as a painter lost none of its verve in her old age and during her last years she continued developing towards a freely painted abstract style that is evident in To The Castle, Corfe.
Vibrantly painted with gouache To The Castle, Corfe exudes a highly spirited interpretation of the surrounding landscape of Corfe Castle. Features such as a stream and bridge and farmhouse are surrounded by loosely painted trees and shrubs with the distinction between representation and abstraction become blurred.
As far as English villages go Corfe Castle is stunning and well worth a visit if you are ever touring the South of England. Located in the midst of Dorset's Purbeck Hills on the road between Wareham and Swanage Corfe is surrounded by rolling hills and farmland with spectacular coastal scenery nearby. The village is dominated by the ruins of Corfe Castle which stands on a natural hill overlooking the village.
In just two years between 1979 and 1980 former Gallery director T.L. Rodney Wilson acquired an astonishing six works by Frances Hodgkins including To The Castle Corfe, a move that showed incredible foresight on his part and greatly enhanced the Christchurch Art Galley's collection of works by one of New Zealand's most significant artists.