B.
Little River by Thomas Cane
Collection
This article first appeared as 'Wind of change' in The Press on 19 October 2012.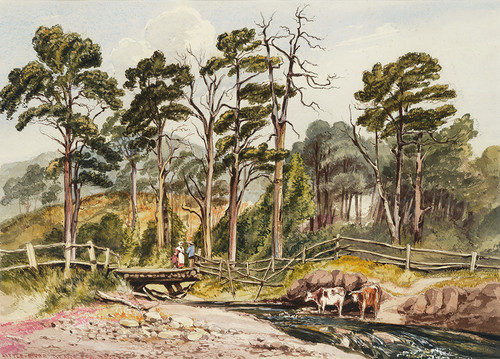 The Christchurch architect Thomas Cane (1830 – 1905) is best known today for his neo-Gothic inspired Timeball Station, designed in 1876 and which stood overlooking Lyttelton for more than 135 years. One of the flagship heritage buildings in Canterbury the Timeball Station meet a violent end when it totally collapsed during the earthquake of 13 June, 2011.
Cane trained as an architect in England, most notably under the eminent Gothic Revivalist architect, Sir George Gilbert Scott (1811-1878), who designed ChristChurch Cathedral. Having arrived in Christchurch in 1874 Cane was appointed Provincial architect in 1875. His practice as an architect and watercolourist is tied very strongly to Banks Peninsula. He rarely painted landscapes beyond this region and also designed several major buildings on the Peninsula including Citron's Pharmacy, Akaroa, 1882 and Waeckerle's Hotel, Akaroa, (The Grand) 1882. The Somerset Hotel, Duvauchelle, (Hotel des Pecheurs) was also designed by Cane in 1883 but was unfortunately demolished as a result of damage following the recent earthquakes. Alongside these buildings Cane was also responsible for designing more modest school buildings on the Peninsula including French Farm, Wainui, Robinson's Bay, Barry's Bay and Pigeon Bay.
Also a highly accomplished watercolourist, Cane developed this skill in his training as an architect. He made numerous studies of medieval architecture in Europe which he returned to throughout his later career but of more interest are his Banks Peninsula landscapes. He travelled regularly to Akaroa and further afield completing paintings of Akaroa Harbour including Wainui, Duvauchelles, Little Akaloa, Pigeon Bay and Little River.
By 1883, when this watercolour was completed, Little River had become the gateway to Akaroa Harbour. A road had been completed over the Hilltop in 1872 (by my great, great grandfather, Joseph Vangioni, I discovered while researching this article) and a Cobb and Co coach service established to run passengers between Christchurch and Akaroa. Cane's watercolour alludes to the dramatic changes that occurred at Little River at this time, an area once covered in dense native forests. Tall trees dominate the background, survivors of the intense forestry that occurred throughout the 1860s and 70s. A timber mill had been established in 1864 and much of the timber was shipped to Christchurch where it was used for building. Indeed some timber milled at Little River was used in the construction of ChristChurch Cathedral. The cattle seen in the foreground hint at the changes in land use by the 1880s as conventional farming activities began to replace forestry.
Painted at the height of summer in February 1883, one wonders if Cane sourced this view of Little River as he made his way to Akaroa as a passenger on a Cobb and Co coach. In the 21st century Little River remains the gateway to Akaroa harbour and the numerous secluded bays that drop down from the summit road just as it was back in Cane's day. It's still an obligatory stop for modern day travellers before the dramatic drive up to the hilltop and the stunning harbour beyond.