B.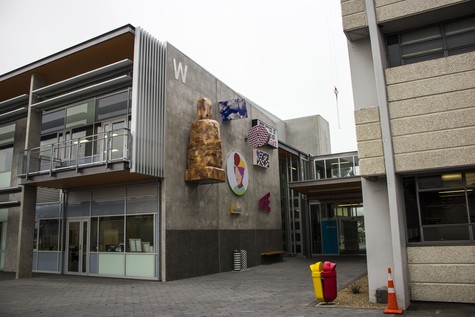 The House of Wellbeing
Blog
On Saturday, I spoke at the launch of a major new work of art in public space—Wayne Youle's installation The House of Wellbeing ALL WELCOME, at the CPIT Aoraki campus on Madras Street.
It's a work that's been more than a year in the making, the first of a number of public art commissions planned for CPIT Aoraki's Madras Street campus. Wayne was asked by the Polytech to create an outdoor installation for their new Whareora building off Barbadoes Street, which houses sports science and wellbeing facilities including a recreation centre, community health, and the Next Steps Centre for women. Across the road is the gigantic ruin of Petre's Roman Catholic Cathedral, severely damaged in the 2010 and 2011 earthquakes: the new Christchurch takes shape in the shadow of the old.
Ten components make up Wayne Youle's House of Wellbeing. At the centre of the wall is a pop art portrait of Kate Sheppard, leader of the fight to win New Zealand women the vote in the early twentieth century. Wayne has pictured her wearing pioneering Canterbury artist Margaret Stoddart's familiar hat. 'There is this acknowledgement of the doggedness, the determination of the betterment of women,' said Wayne. 'But then there is that playful side of things and that artistic side of things …'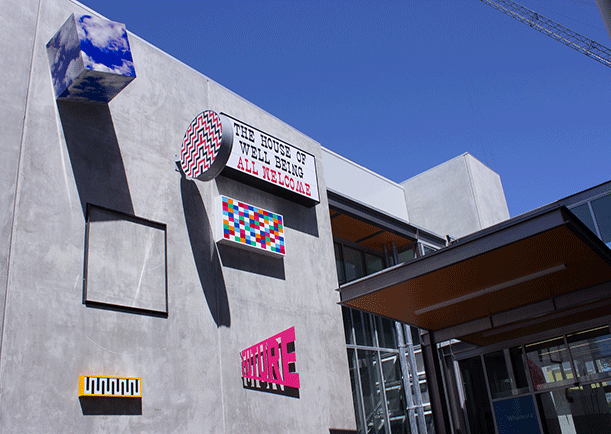 Other sculptural components include a rotated cube form covered in clouds and bright sky (on the day I was there it looked like it had been cut perfectly from the sky above), and an oversized carved human figure, intended to be unfinished to symbolise the start of a process of creation. High on the wall, a lightbox is emblazoned with a poutama (stairway to heaven) design—a metaphor for lifelong learning and growth. A colourful bench sits near two drinking fountains in graphic black and white designs. The fountains are side by side. Wayne said to me that the installer questioned the positioning on the plan, saying that people will be standing close together when they're drinking from them. Perfect! said Wayne.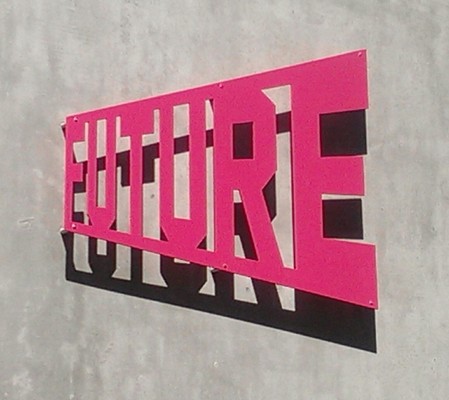 In the days immediately after the Christchurch earthquakes, people started interpreting the experiences they'd had, expressing themselves in song or music or dance or film or literature or visual art, and sharing what they'd made via social media or in public places. Public art, commissioned and uncommissioned, in its various material and immaterial forms, is taking a dynamic and critical role in local culture as the city recovers from disaster. With their new art commissions, CPIT Aoraki has provided opportunities for artists to be visible in the new city and be part of its public conversations. I applaud them for it.
Next time you're down that end of town, pop in to CPIT Aoraki's Madras Street campus and visit Wayne Youle's The House of Wellbeing ALL WELCOME. (You will be welcome!) It makes a powerful contribution both to life on the campus and to the city's wider collection of public art.