B.
Populate! update #14 (Light bulb moment)
Behind the scenes
Ever get the feeling a work of art is trying to tell you something?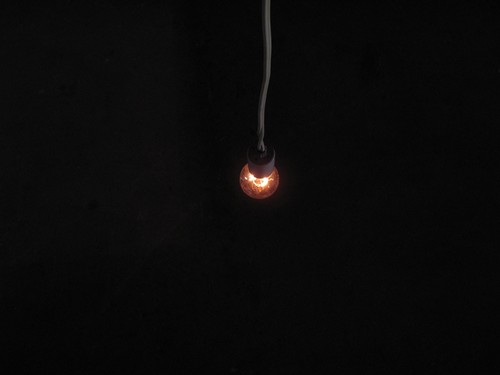 If you've been reading this blog over the last wee while, you'll probably know that we're currently all going hell for leather to get up a series of exhibitions, wall works and public programmes as part of Populate!, which aims to inhabit Christchurch's centre with art to celebrate the Gallery's 10th birthday (as opposed to quietly weeping into our cereal about the fact that the gallery building remains closed).
A big part of the programme, and something I'm hugely excited about, is the presentation of six fantastic works by the influential American video artist Tony Oursler. Renowned for grotesque, unsettling and somehow still appealing images projected onto fibreglass forms, walls, steam and even people, Oursler is recognised for freeing video art from the 'tyranny of the monitor'.
Our show, Bright Burn Want, includes a selection of Oursler's works, from goggle-eyed, lip-licking biomorphic forms that invite us to eavesdrop on their fractured neurotic ramblings through to monstrous projections that seem to externalise the sense of frustration bubbling away behind the walls of this city.
Perhaps the simplest of the six is Incandescence, an oddly dysfunctional light bulb that provides a sputtering accompaniment to a classic Oursler monologue.
Listening to a sample of the audio on my computer today, with my colleagues rushing past my door, opening up crates, finalising wall labels and doing all the million and one things that need to be done before May 10th, Oursler's words - which include the phrase 'space time energy' repeated several times, building to a frenetic pace - seemed eerily apt. Let's hope they're prophetic too, because the last thing I heard before putting down the headphones was this:
Whatever happens now is beautiful
beautiful
beautiful