B.
1923, Christchurch Cathedral Square
Behind the scenes
The Rustle of Silk is showing at Everybody's. Foolish Wives, starring Eric von Stroheim, is screening at the Strand.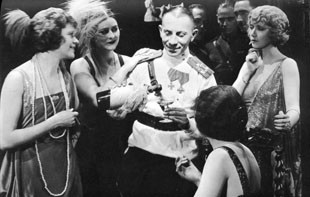 Huckleberry Finn and Know Thy Child, an Australian Production with the New Zealand star Vera James, are on at the Grand Theatre. The Crystal Palace has two offerings: Rupert of Hentzau; and Railroaded, starring the dashing Herbert Rawlinson, with music from the Symphony Orchestra. (This is pre-talkies, the silent movie era, and music matters.)
R.P. Moore ascends the cathedral's slender spire to set his Cirkut camera's swivelling lens to its familiar task. A narrow spiral stone staircase, a breezy ladder, bells, the balcony with its good view facing west. A heavy morning frost means it is still cold: the coal smoke of home and office fires burning will lend a soft focus filter to the more distant corners of this view.
Down below in the Square, brand new cars are neatly lined up. There are very few horse carriages. Tram tracks have cut strong sweeping lines in a melting heavy frost; there's a tram turning right by the Clarendon, heading for the Square. One or two people have noticed the elevated cameraman. It's ten past nine. The switch is turned and the camera begins its mechanical roll.