B.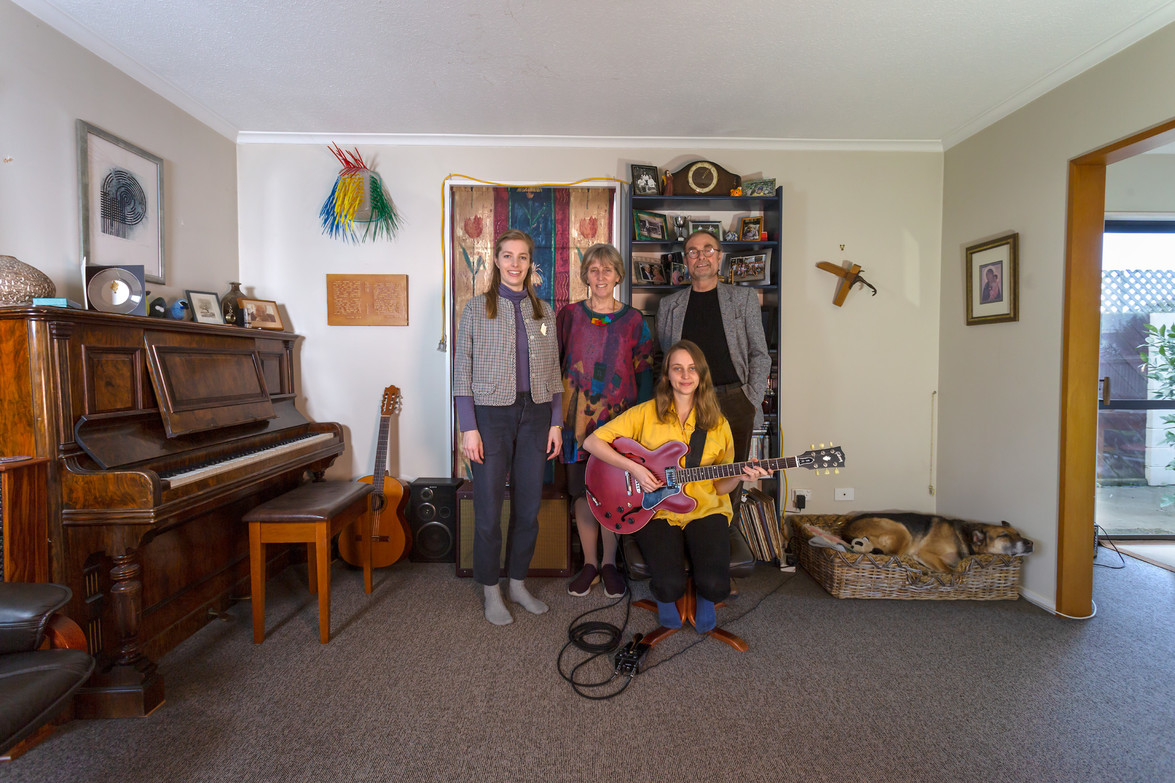 Dorian Alleluias
Anthems of Belonging
The Vissers Webb family
Dutch/Pākehā/New Zealanders
Dorian Alleluias
Composed April – September 2019
For variations of voices including instrumental-voice,
3 mins 10 sec (variable)
At the heart of this song is the question of how we each live out the values we uphold. Are our actions and relationships with others, and our world, honest to our beliefs? For the Vissers Webb family (the artist's own family), these ideas can be found in small actions of family love as much as is in larger actions or socio-political movements. This anthem is improvised around the musical mode/scale called Dorian. Each rendition differs from the last, though the lyrics and mood of the piece remain consistent (just one rendition of the multiple recordings made is shown in this exhibition). The family chose this composition format for its links to jazz improvisation as well early Western vocal ornamentation. But most importantly, they chose this form of music making because it demands listening carefully to what others are doing and saying. Careful listening like this requires good teamwork and a heartfelt interest in ensuring each voice is heard, which can mean putting the needs of others before your own. Their anthem is a song of thanksgiving and appreciation for those people who hold us to account, who challenge and question, who encourage, and who love unconditionally.
Dorian Alleluias
Improvisations in dorian and aeolian modes
coughing
a bird's call
a bird's song
scratching
laughing
rustling
a car's horn
Ex vobis
Et tibi
Per te
Et cum vobiscum
Morning's here
prayers and praise
love and care
on your way
blues and greens
fill our days
joys and tears
wheels and ways
work and rest
here or there
you'll be blessed
everywhere
free to go
stay awhile
all the time
with a smile
evenings here
prayers and praise
love and care
on your way
Day is done
alleluia