Digitised publications
John Gibb room card
Download PDF
This room card was created for the exhibition Closer 16 December 2017 – 26 August 2018.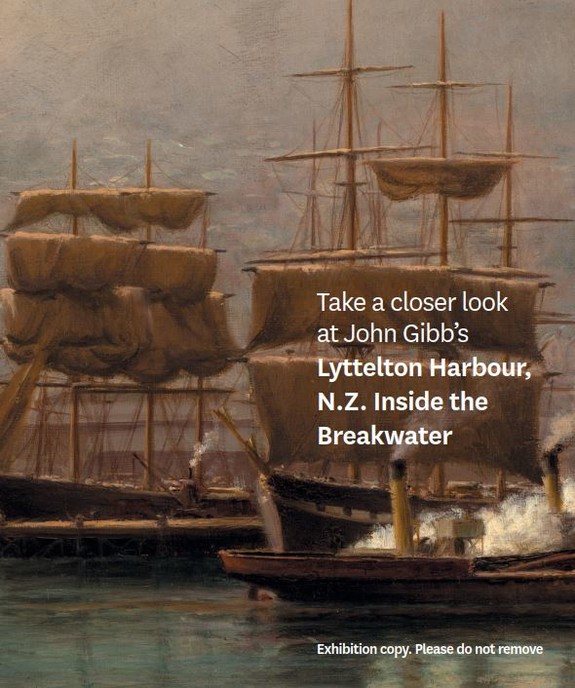 ---
Related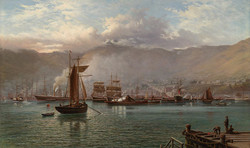 As with Petrus van der Velden's The Leuvehaven, this painting by John Gibb provides a view of a bustling port where ships come and go, unloading and loading their cargo. By 1886, when this painting was completed, the town of Lyttelton / Ōhinehou had been settled by pākehā for just over thirty-six years, and the port had become one of New Zealand's busiest. Lyttelton Harbour / Whakaraupō provided welcome refuge for ships from the Pacific Ocean beyond the harbour heads, particularly once the breakwater had been completed. Gibb's painting shows fishing boats, sailing and steam ships, a launch and even a rowboat plying the sheltered waters of the harbour, busily going about their business. It was first shown at the Colonial and Indian Exhibition at the Royal Albert Hall in London in 1886, where it would have served well in promoting the progressive industriousness of the port and the prosperity of the Canterbury Province to an international audience.
(Reading the Swell 3 September 2016 – 6 February 2017)
Closer: Old Favourites, New Stories
New perspectives on ten of the Gallery's best-loved paintings.