Exhibition
Suites from the Permanent Collection
7 May 2004 – 1 May 2005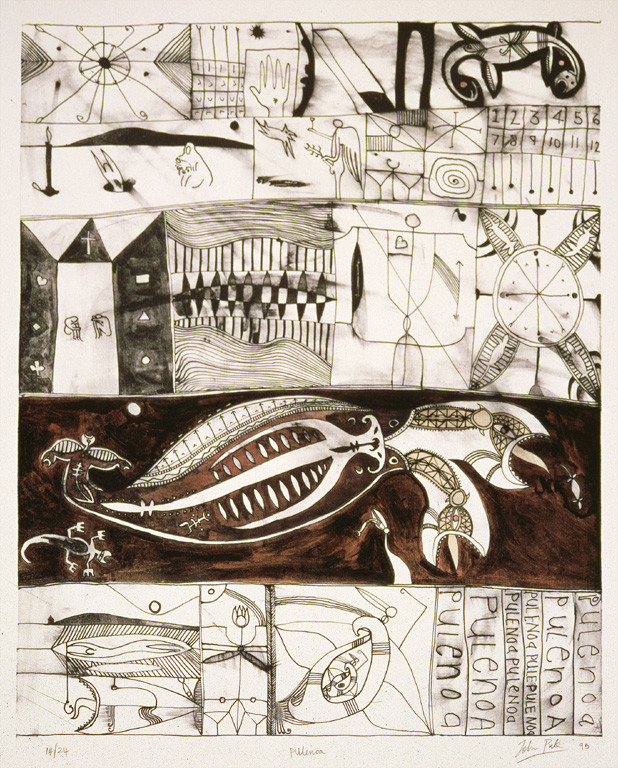 An exhibition of print suites by contemporary New Zealand artists.
An exhibition of five suites of prints by contemporary New Zealand artists, Tony Fomison, John Pule, Denise Copland, Barry Cleavin, as well as a collaboration between Ralph Hotere and Bill Culbert.
This new exhibitions at the Christchurch Art Gallery Te Puna o Waiwhetū, offers unique perspectives on the Gallery's permanent Collection.
Suites from the Permanent Collection is an exhibition of five print suites by contemporary New Zealand artists in the Burdon Family Gallery. Portraits and Personalities: Portraits from the Permanent Collection, explores self-portraiture, family portraits and portraits of New Zealand artists in the Monica Richards Gallery. Both exhibitions are drawn from the Gallery's 5,500 work collection.
Christchurch Art Gallery Manager, Public Programmes, Hubert Klaassens says the exhibitions allows visitors to experience familiar and little known works from the Gallery's collection in a new context.
'The Suites exhibition provides an opportunity to view how several major contemporary artists from New Zealand explore a range of ideas and themes, as well as a variety of techniques, within a set of prints,' says Hubert Klaassens.
Suites from the Permanent Collection features five suites, or sets, of prints by Tony Fomison, John Pule, Denise Copland, and Barry Cleavin. The exhibition also includes a collaborative suite by Ralph Hotere and Bill Culbert, which is being shown by the Gallery for the first time.
'This is also the first time that the Gallery has created a show focussing on suites of prints,' says Hubert Klaassens.
'There is usually little opportunity to view suites in their entirety in New Zealand, as many are broken up and sold individually.'
Related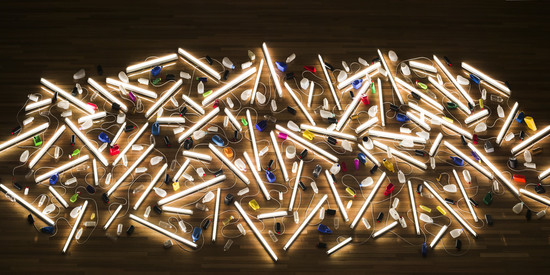 Brought to Light: A New View of the Collection
Our upstairs collection galleries have undergone an exciting and dynamic redesign – the first full rehang of the collection since Christchurch Art Gallery opened in its new building in 2003.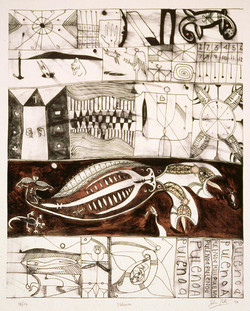 The titles of the three works in this series translate as: Pokia (Together), Tokolonga faoa e loto ne misi (Many people in a dream), Pulenoa (Without consent). John Pule uses his art to explore issues of post-colonialism, cultural identity and the richness of Pacific Island visual and oral traditions. The large circle in the central print refers to harmony and balance in life and Pulenoa refers to colonisation in the Pacific. Lithography has proved to be a very suitable medium for Pule because it's immediacy suits his expressive style of drawing. He incorporates elements of hiapo (traditional Niuean tapa cloth) but his compositions also contain more personal elements that reflect contemporary life. Born in Nuie, Pule arrived in New Zealand in 1964. He studied art briefly in Auckland and began painting full-time in 1987. He has exhibited extensively throughout New Zealand and the Pacific. He has also taught at workshops in Nuie and Fiji, helping artists from other indigenous cultures to extend their vision beyond their traditions toward a new development in Pacific Island visual arts. Pule is also an accomplished writer who has published novels and several volumes of poetry.