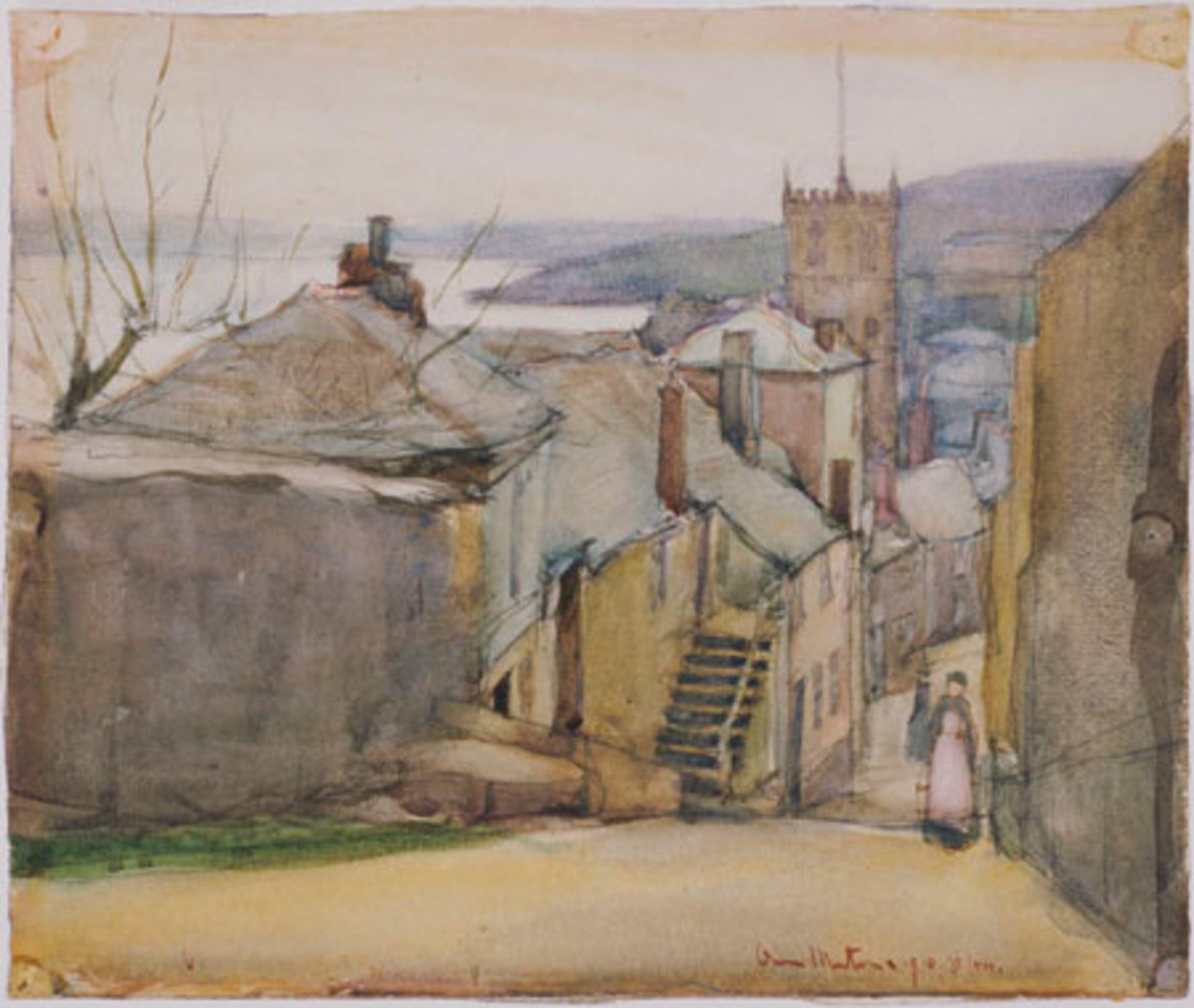 This exhibition is now closed
A unique exhibition of paintings by landscape watercolourist Owen Merton.
A unique exhibition of paintings by landscape watercolourist Owen Merton.
Christchurch-born painter Owen Merton is under-recognised in New Zealand. A major exhibition, opening this week, will introduce new audiences to his work and invite a reassessment of his international achievements.
Owen Merton – Expatriate Painter opens at the Christchurch Art Gallery Te Puna o Waiwhetū on 11 June. The exhibition is guest-curated by Otago art historian Dr Roger Collins, and was made possible through the sponsorship of Spicers Portfolio Management Ltd.
Dr Roger Collins says Merton has had patchy exposure in New Zealand, with his most innovative works not seen in this country until more than 30 years after his death.
'Caricaturist and illustrator, genre, marine, townscape and architectural painter, landscapist, a conservative Edwardian in his teens and early twenties who metamorphosed into a modernist of the New York School in his thirties – Owen Merton was all of these things, yet in the general view he has remained an artist of, at best, two pictures,' says Roger Collins.
'Merton's story, like those of his friends Frances Hodgkins and Raymond McIntyre, attaches itself to another school: they became British artists, Maud Sherwood, another friend, became an Australian painter, and Merton – at the peak of his accomplishment – became an American one.'
'Nevertheless, the expatriates as a group are so numerous, the gap created within the New Zealand art establishment by their departures so substantial, and the advantages for the artists themselves so profound, that they must be considered a major subset of New Zealand-born artists, however tenuous their ties eventually became.'
The exhibition, of 40 of Merton's works, has been drawn from nine institutional and eleven private collections in New Zealand, the United States and the United Kingdom, with the single largest contribution – six works – coming from the Christchurch Art Gallery's own collection.
Roger Collins believes audiences will be particularly drawn to two walls of paintings from the artist's Bermuda period.
'The group of major, innovative works painted in Bermuda, reveals a profound transformation in Merton's work,' says Roger Collins.
'His colour is now incandescent, richer than it had ever been before; the picture space is compressed and the surface of the sheet is emphasised by occasional patches of uncoloured paper. Everything contributes to a modernist concern with the picture plane.'
Dr Collins hopes the exhibition will allow audiences to appreciate the work and importance of the artist.
'Recent research on Merton has revealed the rich and complex life and career of an audacious painter working within the world of New York modernism.'
'This exhibition makes it possible for New Zealanders to reassess the achievements of this undervalued artist.'
Exhibition Sponsor: Spicers Portfolio Management Ltd
Collection works in this exhibition
6 items