b.1948, d.2000
No Mail Today
Purchased 2015
Acrylic on canvas
1498 x 1713mm
2015/043
1978
Allen Maddox began producing his well-known 'X' paintings around 1975 when, in a moment of despondency, he angrily defaced a painting he was working on with an X. The motif stuck, and he began repeating his 'crosses in boxes' over and over on his canvases. There is a compulsiveness in Maddox's 'X' paintings; at once ordered yet disordered, they demonstrate a combination of gestural boldness and neurotic energy. Maddox commented in 1977 that he 'would like to be able to visually reproduce the little electric thought patterns that go on in your head when one is paranoiac… How I thrill to a composition resolved by "painterly" means. Splashes, strokes, aesthetic errors.'
(No! That's wrong XXXXXX, 25 June 2016 – 30 April 2017)
Related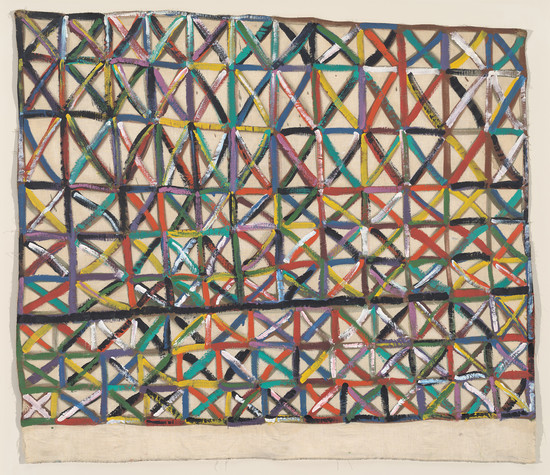 No! That's wrong XXXXXX
Three paintings by Tony Fomison, Philip Clairmont and Allen Maddox.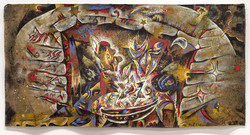 Philip Clairmont's Fireplace was originally part of a larger painting of an interior completed for a 1970s Christchurch's nightclub called '15 Jellies'. The painting survived a fire that closed the club and afterwards was separated into three works including Fireplace. In the late 1970s Clairmont stated: I started painting interiors in my honours year at art school because we lived in this cramped Clifford flat in Hereford Street and I spent a helluva lot of time at home there. … The house we lived in had such beautiful fireplaces surrounded by decorated tiles and things like that. … I have painting binges. Usually at night because I prefer artificial lighting. I like a lot of music because it makes me paint at different speeds. It's almost like conducting with a paint brush. I like the gesture of painting… You've got to psych yourself into it. Into a state of attack really, because you've got something going on in your head.
(No! That's wrong XXXXXX, 25 June 2016 – 30 April 2017)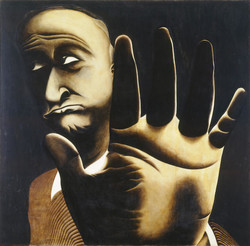 Talk to the hand. The character in Tony Fomision's No! holds up his hand to the viewer in a gesture of defiance and refusal as he looks away. The antagonistic stance is based on an image cut from a 1966 newspaper of a local blacksmith horrified at the idea of a proposed urban subdivision near his village. This work was completed after Fomison returned to Christchurch from his overseas sojourn, a moment in which he developed his mature style: Overseas I had found a way of painting that is my way of painting, derived completely from my drawings. I had got on the right track after being put on the wrong track at Art School. Much of Fomison's subject matter is gritty with a psychological intensity, as seen in No!, where the subject actively rejects the viewer, refusing to acknowledge them. Fomison stated: My paintings are brutal and lonely, and try to make the statement that the personal condition is more important, that self-knowledge is more important, than just painting flowers and landscapes.
(No! That's wrong XXXXXX, 25 June 2016 – 30 April 2017)