2013
Acrylic on linen
Gift of the artist, 2013
2200 x 1800mm
2013/079
Dust, Smoke and Rainbows pictures an unbounded space – not of this world, but a place of potential that exists beyond and in relation to this one. In Māori cosmology the genealogy of phenomena accounts for a time before Te Ao Marama, the world of light. Before light there was Te Pō, the night; and before Te Pō there was Te Korekore, the void, the realm of potential. "All my work, in some form, has a relationship to Māori cosmology," says Cotton, "because a lot of what I paint is about the relationship of matter and ideas to one another, and where things sit in context to one another: whakapapa." Cotton's dark sky is filled with matter linked by a network of relationships. Here a painted version of a modernist carving by Northland artist Clive Arlidge acknowledges an older generation of Māori artists who laid a foundation for contemporary practitioners; it also affirms that the cultural representations of previous generations continue to exert active agency.
(Now, Then, Next: Time and the Contemporary, 15 June 2019 – 8 March 2020)
earlier labels about this work
Partway through the development of The Hanging Sky, Christchurch Art Gallery's touring survey of Shane Cotton's work, Cotton told curator Justin Paton that he wanted to donate a new work, Dust, Smoke and Rainbows, to the Gallery in honour of the way Christchurch had faced the challenges presented by the earthquakes and in recognition of the Gallery's continued commitment to his exhibition, despite circumstances that could easily have derailed it. Here, Cotton transports a Māori modernist sculpture forward in time and space, allowing it to re-materialise in a context that crackles with supernatural energy. Part-ruin, part-redemptive vision, this halfway space is alive with omens; charged with the echoes of the recent and distant past and full of anticipation at events to come.
Related reading: Unseen: the changing collection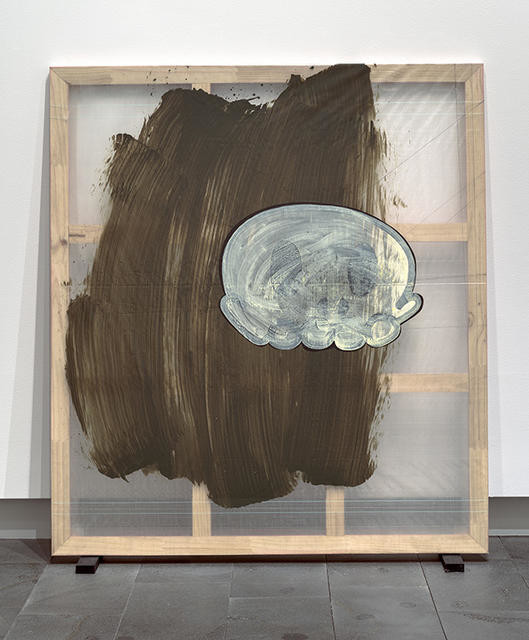 Intrigued by the deceptions inherent in the act of painting, Tjalling de Vries often exposes tricks of the trade that usually pass unnoticed, while incorporating falsehoods of his own – like painted-on masking tape, counterfeit spills or creases and intricately layered surfaces designed to confuse and misdirect the eye. In Dead Head, transparent polyethylene takes the place of a canvas support, destabilising the picture plane as a site of illusion and suspended disbelief and allowing a view 'through' the painting to the wooden stretcher behind.
(Unseen: The Changing Collection, 18 December 2015 – 19 June 2016)