Joyful Glitch
Laura Duffy on queer ecologies, technologies and archives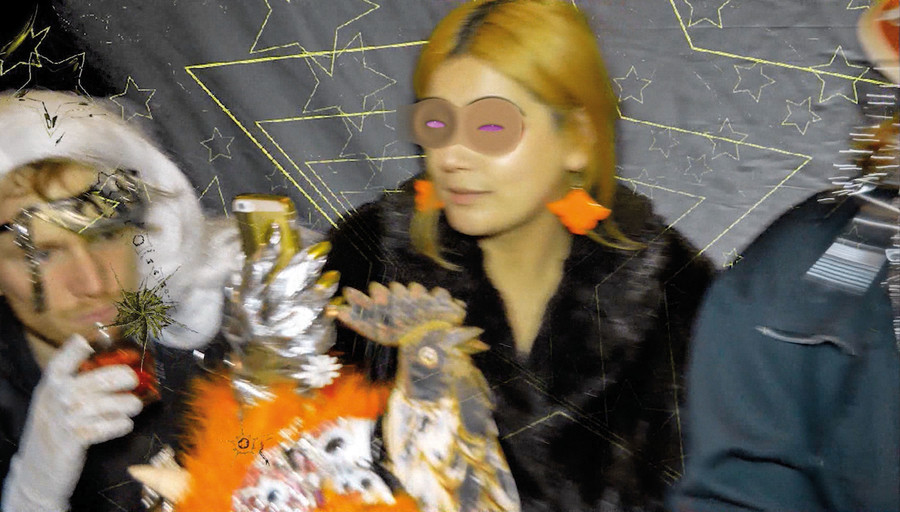 Melanie Oliver: I first saw your work in 2016 as part of a one-night-only exhibition, NOWNOW held at 17 Tory Street in Wellington. It was a sculptural installation with fluids dribbling from a hanging form and I was at once delighted and disgusted. It was visceral and bodily, the drips a reminder of saliva, snot, discharge or cum, but also beautiful and joyful. It had vitality. While your more recent work is primarily video, it retains this abject, sculptural, gooey, oozing quality – it's biological, or ecological. Why are you interested in grossing people out, in a pleasurable way?
Laura Duffy: I like to think I am interested in (my version of) bodily honesty, more than grossing people out, which could be read as the same thing, especially in earlier works...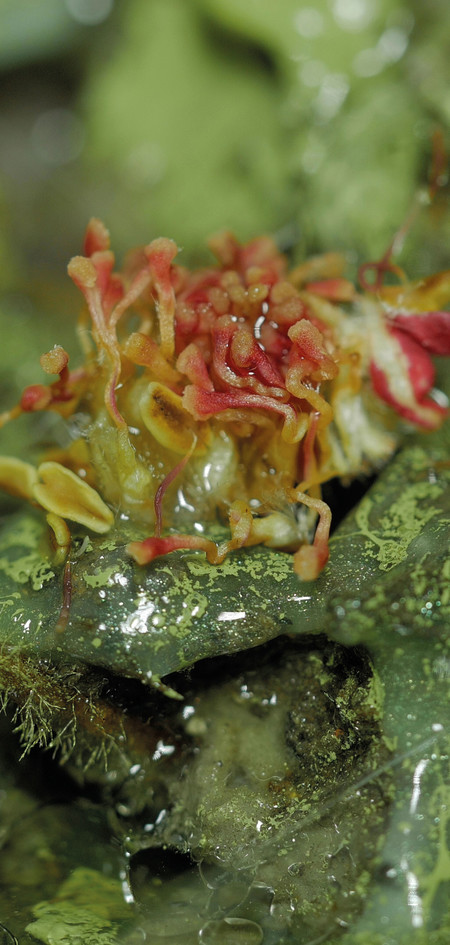 In the past, my work has been more along that vein, wanting to provoke a reaction. I have held a long interest in the construction of disgust: where that comes from, why people feel that way, and also what happens in your body physically when you experience disgust. I've pushed through that as a focus, and I now think of that moment in my practice as an adolescence of abject which was provocative, loud and really disgusting. I feel like I've toned down the abject and it's become something more complicated now. I like to consider this idea in the framework of thinking about the honesty of bodies, of physicality.
I think of bodies as vulnerable beings which are magical in their intelligence. However, I'm still interested in the way disgust is constructed to reinforce bodily normativity and how this operates socially. What we consider yuck in relation to bodies is often coded with ideology of what is and is not 'normal'.
MO: It's about materiality as well isn't it? Ideas of new materialism, and how materials have their own lives and agency.
LD: It's about people; the materiality of people's bodies whilst they are interacting with the works. For example, in Spawn (2021, see p. 52) there are no bodies in that work at all, but you can relate to it through a knowing or an experience of your body.
MO: The fluids and the flowing, the flowery plant matter... it is bodily. What prompted your transition into video?
LD: In my undergrad I mainly made sculptures and later transitioned to video. I was frustrated by making things that were static – I needed my sculptural works to move, to have fewer limitations. Bringing objects into the digital space, beginning with filming objects rather than displaying them physically, allows me more freedom, more stretch. It provides the ability to play with scale in a way that I enjoy. I consider everything I make as a video. Even when I'm making objects, sculpture or installation, it's a video in a way. For example the work I made for The Physics Room earlier this year was not technically digital at all, but still retained similar materiality to video through elements in the work. It was a wobbly steel sculpture with a resin plate embedded with LED lights, referencing the materiality of displaying a television on a stand.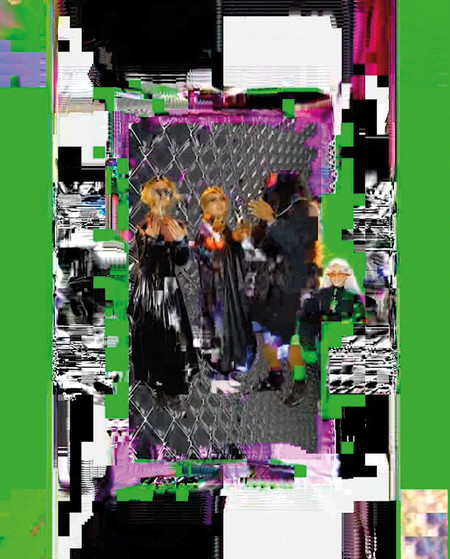 MO: Video being at the core of your practice makes real sense for me, with the movement of your sculptures or time-based nature of installations. Can you explain some of the technical aspects of how you make and manipulate your work or edit to include digital glitches?
LD: The way that I make my work is often totally different depending on what the project is. For !ERROR!, I filmed in my lounge and at my friend's house, in front of a cheap pop-up green screen. It was made after the first national lockdown at a moment when it felt like civilisation was maybe ending and we were hungry to have a dance at the end of the world together. During filming I was more interested in everyone having a nice time and having autonomy about the way they were presented, rather than harvesting really clean footage from the experience. The process of making was focused on a celebration of friendship, pleasure and community. From filming, I pulled the footage into Premiere and After Effects, using apps and plug-ins to distort, transport or transform the footage. At times the work has been glitched, the materiality of the file itself is broken or corrupted slightly. Which goes back to my interest in revealing the materiality of digital work to think about its construction.
I curated an experience for friends and collaborators, who wore DIY disguises referencing anti facial-recognition fashion looks. When the footage was processed I applied further digital disguises and different forms of invisibility. I was thinking about hiding from digital surveillance or invisibility and employing lots of silly ways to disrupt being seen. I was searching for what it could mean to fail to be seen, or if it is even possible to do so.
For Spawn I filmed in a more controlled studio environment. It's a much slicker work with a more refined aesthetic. If you imagine a very messy and lo-fi version of a science lab or advertising studio, with lights and a tripod and different materials marinating on the floor of my studio – it's sort of like that. Comparing the production of these two works to each other is interesting because the in-studio practice is solitary, quiet and slow, whereas !ERROR! was fleeting, collaborative, loud and open.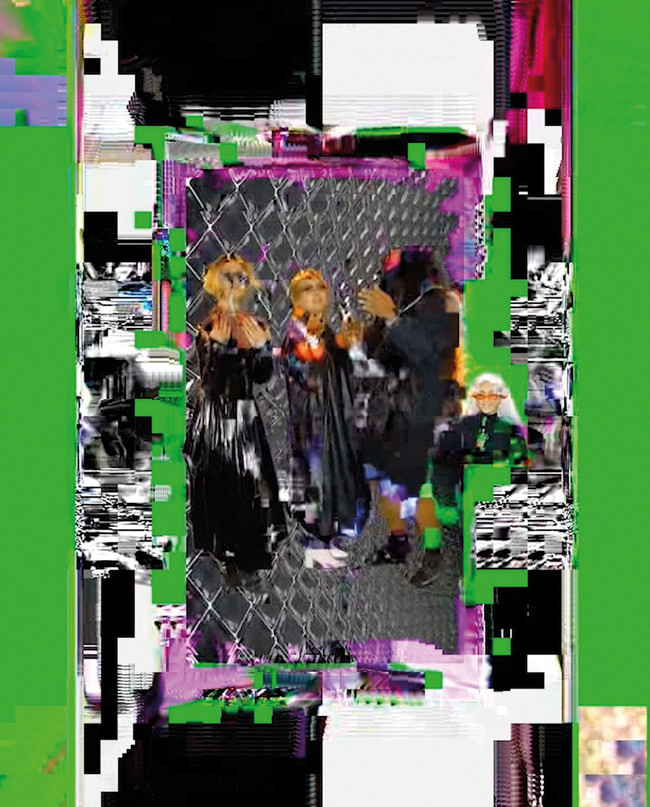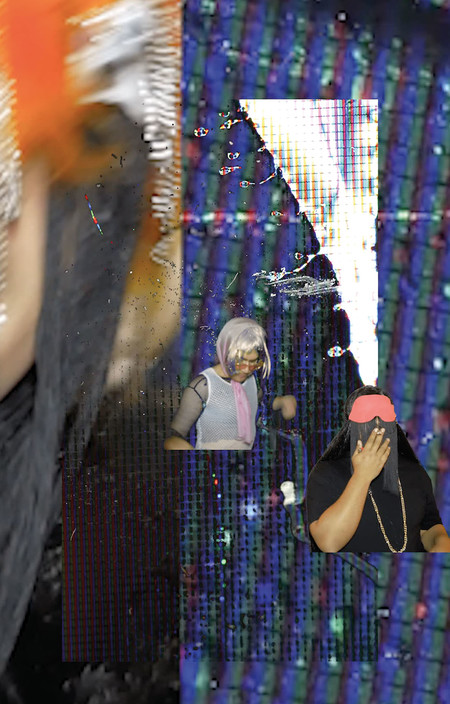 MO: In !ERROR! there is a playfulness and you highlight the humanness of technology, pointing out that although a computer uses logic, it doesn't always work, it's imperfect. Do you want to talk about the queering of technology, or the queer space that you explore in your work?
LD: In my practice as a whole I am interested in the construction of ideas and how to disrupt constructions or draw attention to the fact that they're all made things. I'm interested in the idea of glitch as a way to escape, disrupt, to step outside of. The work plays with complications in politics of visibility and invisibility in relation to queerness. Visibility is a rainbow capitalist idea that I have noticed corporations seem to be striving for; on a surface level, that's a good thing, but there's also a dark side to it, because visibility isn't always safe or helpful and can often mean assimilation. In relation to visibility in technology, being fully seen doesn't necessarily equate to safety, pleasure or joy either. It's often a hidden violation. The work plays with the possibility that people can't be defined or refined.
MO: The right to privacy is a political issue within digital – do you think the right to have things concealed is as important as having visibility? I find the way that you make the digital image a sculptural form fascinating, with slips, cuts and layers that reveal it as a veneer with substance and complexity behind the shiny surface of the screen, making something we often consider immaterial to be a very tactile media. What are your thoughts on digital politics? Is there an element of wanting to take control and distort what has become such an ordinary part of our lives?
LD: Digital technologies are intimately intertwined with our everyday lives. For me this intimacy is an interesting and important space to look at. Similar to the way that I think about the construction of disgust,
I like to think about the construction of technologies and what biases or ideas are embedded. In previous experiments I have enjoyed working with the limitations of artificial intelligence software that attempts to read frames of my videos. Sometimes it will code me as a man or a woman, which I find interesting and terrifying. I use AI as a tangible material that can think about how categorisation and language limits our experiences of the world. In relation to digital politics, it is completely valid to be anti-digital or concerned with privacy issues that come with digital culture. !ERROR! is interested in the complexities of data mining from social media, whilst holding onto the reality in which there is often pressure from our industry, or from capitalism at large, to use these platforms to promote our projects and ourselves.
It's important to keep thinking about who is profiting from our data. And I am very invested in questioning the biases encoded into technology. Everyone should watch the film Coded Bias if they want to think about some of these politics. The ideology that is encoded into technology is a metaphor for the ideology that is encoded into our social structures as well, it's just that we can identify it more easily when it has a material form. I hope that the work can acknowledge digital politics and simultaneously acknowledge our reliance, need and sometimes joy in technology. The idea of becoming invisible in relation to technology is to refuse to participate, to refuse to be seen, scanned, and categorised. And for me there is a fun or pleasure in this.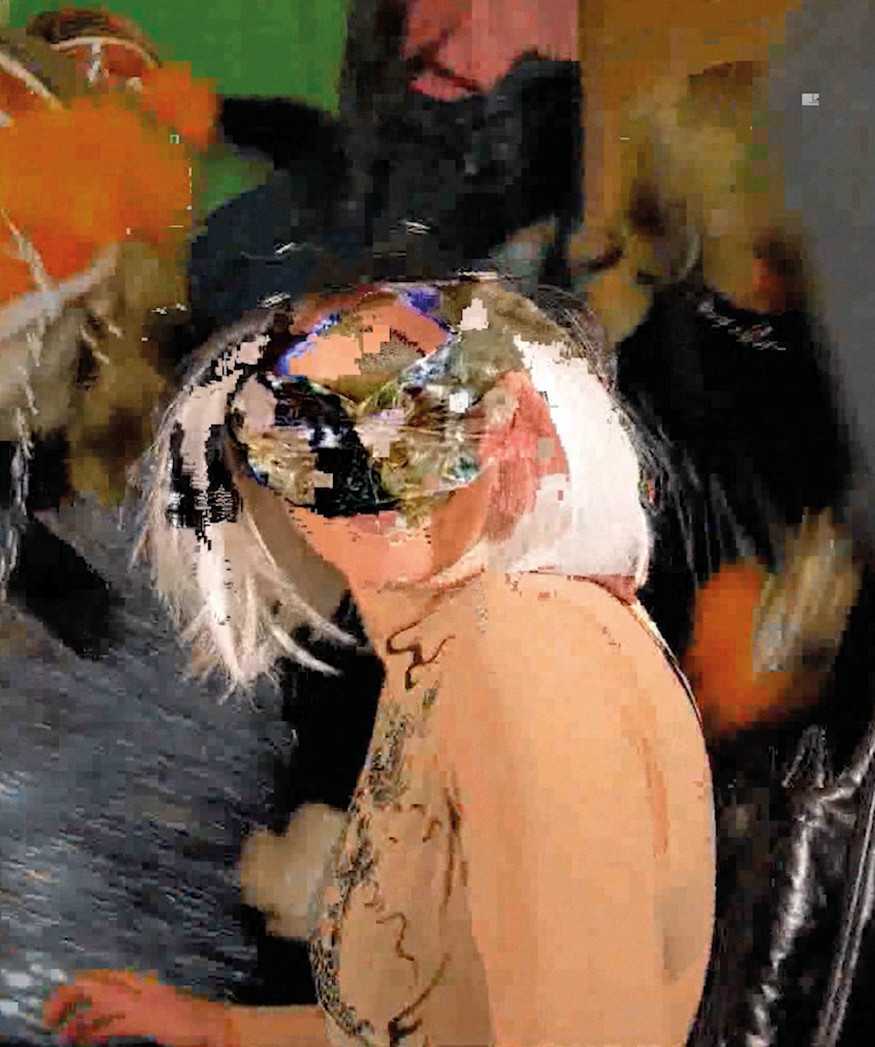 MO: Digital doesn't deal well with nuance does it, it needs to code things and understand them in a black and white way, when it's really far more complex and messy. We're so enmeshed in that world though, it's difficult to exist outside of the digital realm. You recently completed your MFA in Fine Arts – what did you focus your research on for this and what were some of the ideas you explored?
LD: The MFA at Toi Rauwhārangi Massey University is structured to encourage experimentation, testing and figuring out. It's about seeing a practice as ongoing, rather than a finished product, and my supervisors encouraged the development of an ongoing body of research and living practice. I focused on three broad ideas: queer ecologies, queer technologies and queer archives. I wanted to use the opportunity to dig into queer theory and make some freaky stuff.
MO: Was that exciting? And did you find overlaps?
LD: I knew when I started that I wanted to base my thesis on queer ecology, to think about how queer bodies have sometimes been understood against ideas of natural or unnatural. I wanted to think about what this meant for people's experiences of their bodies, or my experience of my body, and how this translates into a colonial perception of nature, or what the relationship is there. The colonial construction of nature is encoded with colonial ideas of gender, sex and sexuality – and then weaponised in a specific way against specific people. This is all super interesting to me. Over the duration of the MFA I was also getting into techy stuff, like playing with AI.
I drew on the ideas of Caspar Heinemann, who writes about queer poetics as a space grounded in refusal, an aesthetic of floweriness or campness as political. They talk a lot about poetry rather than visual artists, which I love. I also looked at the work of Zach Blas who made a work called Queer Technologies (2008–12) that reimagines technology as designed for queer use. This includes a user manual for how to use things wrong, and they've created things like a computer virus. Adjacent to that sort of work is Legacy Russell's book Glitch Feminism, which was relevant to my thinking too. I think it's fun when people draw on high and low culture and disrupt that hierarchy, because that's how we live. For me queer technologies are about refusing to use technology in the way it is built or intended, to expose its manufacturedness, in order to make fun and joy. It is refusal and protest for sure, but it's also centred in pleasure.
MO: 2022 was a big year of study and exhibitions for you – what's next?
LD: I want to have a break and let my ideas marinate. I really want to start my process with a tiny idea, one site or one plant or one thing, and grow out from there, rather than the other way of working, going from a big topic. That'd be a new challenge. I often give myself a limitation – for example with Spawn I limited myself to a green colour palette, and then it went from there. Making is not necessarily a space to come to a conclusion, but to see what fits together and makes sense, to find understanding in relationships between things.