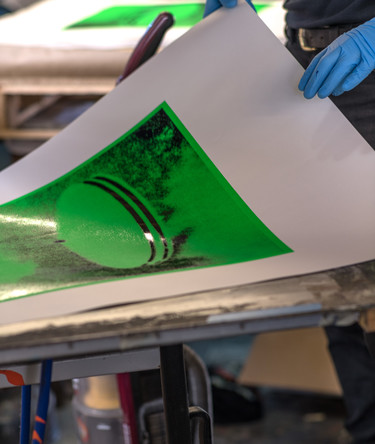 Director's Foreword
Welcome to the winter edition of Bulletin. In this issue of the magazine we hear from writer and rongoā practitioner Arihia Latham (Kāi Tahu), who looks at celebrated Kāi Tahu artist Lonnie Hutchinson's new project for our gallery spaces and forecourt. Rongoā is the traditional form of plant-based medicine practiced by Māori, and Ahu Tīmataka / Trace Elements brings together rongoā plantings on the Gallery's forecourt and cut-out works in an exhibition space upstairs. Foremost amongst the plants featured in the exhibition is kawakawa—the most important herb in Māori traditional healing. Latham finds a project that questions our construction of spaces, and the exterior versus the interior presentation of ourselves.
Hutchinson has also created the pagework for this issue, repurposing what would otherwise be waste materials from the construction of her project. Building her image from the negative spaces she cuts from wallpaper sheets, she bakes her ideas of manaakitanga into the pages of this magazine.
Matariki Williams (Tūhoe, Taranaki, Ngāti Whakaue, Ngāti Hauiti) responds to Ralph Hotere's magnificent Godwit/Kuaka, which is currently on display in Ātete (to resist). Her poetic response is a beautiful lens through which to view the work—if you can, I recommend you take this Bulletin into the exhibition and read her piece with the immensity of Hotere's painting in front of you. And Reuben Woods explores a form of street art that is under-represented in recent discussions around Ōtautahi Christchurch, and other cities, as a street art destination. We've seen paste-ups appear in this magazine before, but only incidentally. Easy to make, often collaborative in nature, and frequently irreverent in tone, they can add moments of levity or unexpected engagement to the urban environment.
We are also really pleased to be able to include an interview with retired potter and former president of the Canterbury Potters' Association, Rex Valentine. Rex has been a pivotal figure in the development of ceramics as an artform in Canterbury since the late 1960s, and is currently working with Gallery staff and local writer and curator Grant Banbury to shed some light on our ceramic holdings. This is an area of our collection that we are keen focus on more, so it's wonderful to finally be able to appropriately contextualise these important pieces of art.
We also feature a look at artist Francis Upritchard's recent stay as the inaugural artist in residence at the Sutton House. Now fully restored and overseen by the Sutton Heritage House and Garden Trust, artist Bill Sutton's former home stands in Christchurch's residential red zone. Designed for the artist by architect and artist Tom Taylor, the preservation and repurposing of this house is an exciting development for the city and the Ōtākaro Avon River Corridor. The house has great potential as a community resource and, importantly for us, the site of a new residency programme.
The Gallery is committed to developing a residency programme which will see invited artists spend time working and living in the house. It's early days yet, but I'm really excited about the long-term possibilities. We're very much looking forward to working with the Ilam School of Fine Arts on this project too.
Our Foundation's annual dinner this year will focus on our ambitions to develop this into an outstanding residency programme for the city. The dinner will be a celebration of the ongoing opportunities that the Sutton House residency presents us for the future. Tickets to this event are available from the Foundation—for more information please see page 62 of this magazine.
And finally, in late April we launched a pre-sales fundraising campaign to finance the production of our new book on the art of Flying Nun Records, Hellzapoppin'! Featuring a limited edition of 200 hand-screenprinted dustjackets and 200 posters, it's been wonderful to work with artist Ronnie van Hout to produce these highly collectible items, which are based on an absolute classic—Van Hout's flying saucer cover for the Pin Group's 1982 Go To Town EP.
It was 1984 when I first came to Christchurch to study at the School of Fine Arts, and that was also the year that Flying Nun entered my record bins (where it still holds a special place). I no longer remember what bands actually played at the University of Canterbury orientation week that year but it was the moment that New Zealand music became very much part of my life—late-night live gigs in sifty bars, waiting for bursary cheques to arrive to spend in record stores (and at gigs) and exploring Christchurch streets filled with incredible band posters, paste-ups and graffiti. Hellzapoppin'! is a great opportunity to revisit this important time in New Zealand's art and music history, and I'd like to thank all those who bought books and posters in the pre-sale offer and made it happen.