Director's Foreword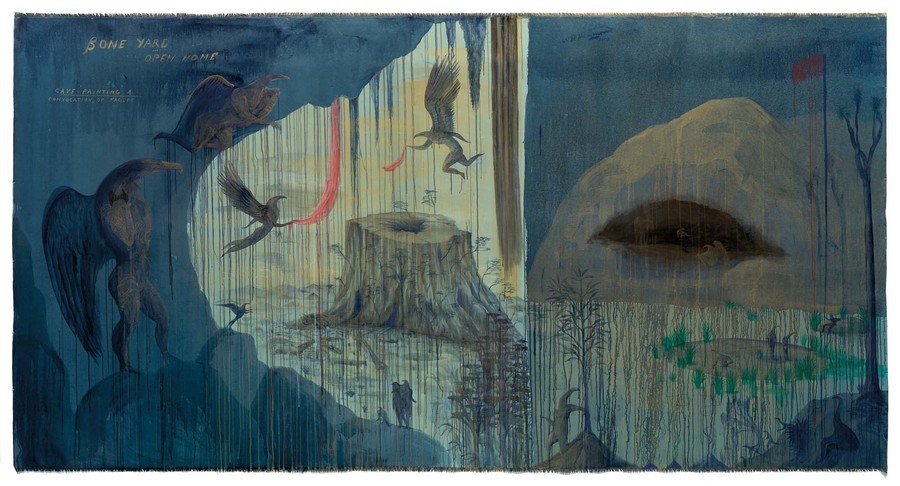 Welcome to the autumn edition of Bulletin. The Gallery is currently getting ready to install an exhibition project that we've been working on for a number of years now. Ralph Hotere: Ātete (to resist) is the first major survey of Hotere's artistic career for over twenty years, and includes works from collections across Aotearoa.
A partnership project between the Gallery and Dunedin Public Art Gallery, it has been on display in Dunedin since November last year, so we're incredibly excited to finally be able to show it to our home audiences. The exhibition, which includes formative abstraction, powerful works of protest and landmark works including Black Phoenix and Godwit/Kuaka, celebrates Hotere's artistic achievements and brings his vision to a new generation. Here, the exhibition's four curators all tell us a little about their relationship with Hotere, and how they connect with the artist's works and the themes and locations that he explores.
We're delighted to feature a new piece of writing by journalist and poet Mohamed Hassan, a former National Poetry Grand Slam champion who has also written movingly about belonging and community in the aftermath of the Christchurch mosque attacks. Bulletin invited Hassan to think about similar themes within the context of artist Olivia Webb's Anthems of Belonging exhibition, which will open here at the Gallery in mid March. Here he writes of the power of anthems—from the songs of his childhood in Egypt to the Kiwi songwriters who sing of his home in Aotearoa—and looks for pathways through which we can write our collective story.
Including music that is less anthemic but no less powerful, Larence Shustak: air gun? is currently on display upstairs in our Monica Richards gallery. Shustak was a New York-born, Ōtautahi-based photographer and anti-establishment art provocateur whose work encompassed street and experimental photography as well as journalism. For Bulletin, Grammy-winning American music historian and author Ashley Kahn looks in greater depth at one aspect of Shustak's career—the wonderful portraits of jazz musicians he made for Riverside Records in the 1950s and 60s. Shustak's subjects included luminaries such as Thelonious Monk, Charlie Mingus and John Coltrane; he was in the thick of an extraordinary moment in musical history.
Also in this issue, Gallery curator Melanie Oliver looks more deeply at our Pauline Rhodes: Blue Mind exhibition, which will close here in just a few days. Rhodes is an artist who has constantly forged her own path, and the works in our collection show her creating in, and of, the land around her. She is an artist who doesn't shy away from political concerns, but in Blue Mind Melanie finds her engaging with water in a work that she describes as "politics as a way of making and engaging with the world".
Our Postcard comes from artist and designer Ella Sutherland, who currently has a large wall work installed outside CoCA. Ella writes to us from Sydney where she is currently working. And our Pagework is from Ani O'Neill, who offers a number of alternative designs for a 'queen-sized' tīvaevae ta' ōrei that she has been working on over the last year. In discussing the work with curator Felicity Milburn, Ani wrote poignantly of the role played by tīvaevae in the mourning process. Since then, we are aware that she has suffered a tragic personal loss, and I'd like to take this moment to offer her our deepest condolences.
I also want to note this intuition's sadness at the death of Bill Hammond in February. Bill's paintings are favourites for many of our visitors—indeed our cover work was recently the subject of a major crowd-funding campaign and we're very much looking forward to displaying it publicly again. The Gallery was proud to be the venue for the Lyttelton artist's farewell, and it was wonderful to see so many come out and pay their respects.
In January, we welcomed the Gallery's first artist-in residence, internationally acclaimed and Ilam trained Francis Upritchard. Normally based in London, Upritchard has been staying in the former home of artist Bill Sutton while working on a body of new works, which we look forward to presenting here later this year.
Sutton's house and studio was designed for the artist by his friend and colleague at the School of Fine Arts, Tom Taylor. Completed in 1963, it is a notable example of mid twentieth-century modern design and a rare example of a house designed to meet an artist's specific requirements. A decade on from the Christchurch earthquakes, which saw the house red-zoned but eventually saved from demolition, Christchurch Art Gallery Te Puna o Waiwhetū in conjunction with Ilam School of Fine Arts, University of Canterbury will offer selected artists the opportunity to live and work from the house. When not in use by visiting artists, the house, which is managed by the Sutton Heritage House and Garden Charitable Trust, will be available for use as a community spaces for talks, seminars, workshops and organised visits. We'll tell you more about this exciting new project later this year.
And finally, Christchurch City Council has just released the Long Term Plan Public Consultation Document, which proposes changes that will affect our level of service in relation to public and school-specific programmes, and late night Wednesdays. The document is open for public consultation from 12 March until 18 April, and you'll find a link to it on our website over that period. This is an important chance to get involved and have your say on what we do.