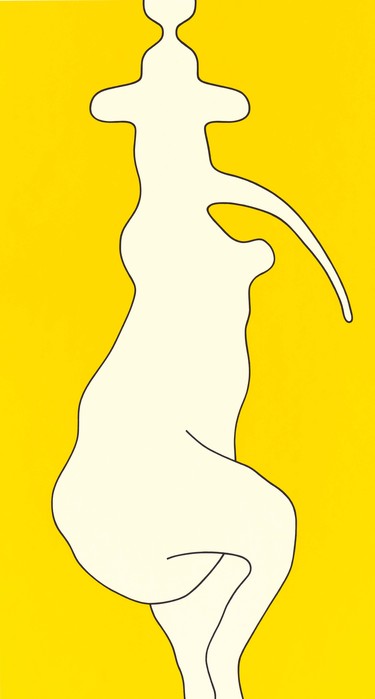 Director's Foreword
Spring is traditionally seen as a time of change, and these last few months have been no exception; since the last issue of the magazine was published in September we've made some significant changes at the Gallery.
We were extremely proud, if rather sad, to see our head curator Lara Strongman accept the role of director, curatorial and digital at the MCA in Sydney. Lara was in her position with Christchurch Art Gallery from 2014 (although as many of you will know, she was also once curator of contemporary art at the former Robert McDougall Art Annex). It's hard to pick just one exhibition to sum up Lara's influence on Christchurch Art Gallery's programme. Perhaps it was Len Lye: Stopped Short by Wonder – a fantastic show that people still talk about, and want us to do again! Or The Devil's Blind Spot: New Strategies in Photography, also one of my favourite shows. But I do know this – we are all going to miss working with Lara, and we wish her the very best for her new role.
When we advertised the head curator position in September we were overwhelmed by the quality of the applicants. One candidate in particular impressed the interview panel with her curatorial vision, knowledge, leadership and understanding of Christchurch Art Gallery Te Puna o Waiwhetū's kaupapa. So I'm delighted that we were able to appoint Gallery curator Felicity Milburn to the role. Felicity brings a proven record of art writing, research, collection development and cross-team collaboration. Her skills will be vital as we build the Gallery and its programme into Aotearoa New Zealand's most essential and engaging art experience.
Another major change here at the Gallery has seen our development contractors Jo Blair and Hannah Wilson of Brown Bread stepping away from the running of the Christchurch Art Gallery Foundation's activities. Working with Brown Bread, the Foundation has raised funds to acquire five great works of art for the Gallery's collection, and has built an endowment that, once completed, will help support future art purchases. Jacq Mehrtens has now taken over the development role, transferring from Brown Bread to work directly with the Foundation and ensure a smooth transition. The Foundation remains committed to building a culture of philanthropy at the Gallery and, with three new trustees on board, we are excited about the future. We have a generous and giving community of highly engaged supporters behind us, and are focused on closing the endowment and delivering ambitious exhibition projects by New Zealand artists.
I'd also like to take this opportunity to note our sadness at the passing of artist Alan Pearson. I got to know Alan back in the late 1980s when I was working at the then CSA Gallery (now CoCA). He was a regular visitor and always up for a chat and a critique of the current exhibitions. He certainly had strong views on painting, art critics and curators, and he liked to share them. Over the years, I worked on a number of gallery projects with him and visited his studio a few times. We got to know each other well and we shared a good laugh on many occasions. And Alan's laugh is something I'll always remember. My thoughts go out to Alan's family.
In this issue of the magazine, we hear from Lara about the work of Melbourne-based, New Zealand- born artist Brent Harris. Well known in Australia for a practice that explores the productive tension between abstraction and figuration, Towards the Swamp is Harris's first solo exhibition in New Zealand. Harris made a significant gift of seventy artworks to the Gallery in 2018 so we're thrilled to be able to air it in this form. Here he talks with Lara about spirituality, good taste, and the appalling moments that result when you accidentally draw an elephant.
We also hear from associate professor of art history at Victoria University Wellington, Peter Brunt, who looks at the process of curating Oceania – the first major exhibition of Oceanic art in the northern hemisphere since 1979. Along with many other New Zealanders, I was in London when the exhibition opened at the Royal Academy in 2018 and it was wonderful to see so many diverse Pacific cultures represented as one civilisation, with an ancient and interconnected history. As Brunt says "This was not business as usual for the Royal Academy. What it all meant in view of its future undertakings to exhibit the art of other cultures and civilisations, especially when that art is entangled with British imperial history … is still shaking down."
In 'Caveat Collectors' Christchurch-based palaeobiologist Richard Holdaway looks at birds, extinction and Bill Hammond. Hammond's work has long featured Aotearoa New Zealand's birds and explored their declines and extinctions. In bird collector Walter Lawry Buller, Hammond and his strange zoomorphic figures found a focus and an architect of extinction. But the truth, as Holdaway points out, is always more complicated. And James Hope, assistant curator at the Sarjeant Gallery Te Whare o Rehua, looks at Dane Mitchell's project for the 58th Venice Biennale, Post hoc. Translating as 'after this', Mitchell's work catalogues things that used to be, but are no more.
Our pagework comes from Christchurch-based artist Tyne Gordon; Berlin-based dancer and choreographer Lisa Densem supplies our postcard; and singer-songwriter and multi-instrumentalist Bic Runga selects her favourite work from our collection, choosing a piece by her former art teacher, who she credits with introducing her to a solid creative work ethic.
Come in and see us over the summer. We're open throughout the festive season and our programme is full of events and activities for all