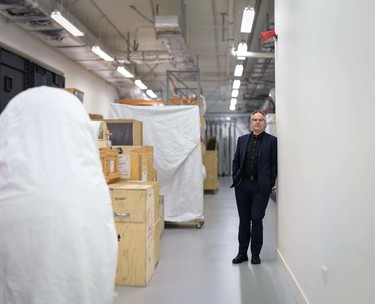 Director's Foreword
Welcome to the winter 2018 edition of Bulletin—my first as director of Christchurch Art Gallery Te Puna o Waiwhetū.
I'd like to offer my sincere thanks for all the support and encouragement that I have received since news of my appointment was made public. I would also like to acknowledge the incredible work of my predecessor, Jenny Harper, who began as director just one week before I first joined Christchurch Art Gallery. Our five years of closure proved that this gallery is more than just a building, and I step into the director's role with a fantastic future-focused building, a collection that has developed significantly over the last twelve years, a talented team and a tremendous community of supporters and strategic partners. My job now is very much about building on Jenny's considerable legacy.
The warmth and scale of the farewell events for Jenny were a testament to her contribution as director from 2006 until 2018. The Gallery was also fortunate to receive two incredible gifts to the collection that will forever acknowledge Jenny's considerable contribution. The Friends of Christchurch Art Gallery made the generous gift of Julia Morison's Dulia, and Cerith Wyn Evans's Things are conspicuous in their absence… was purchased by the Gallery's Foundation and a group of supporters.
I'd also like to offer my thanks to Aaron Beehre and the students of the Graphic Design class at the University of Canterbury's School of Fine Arts for their continuing design of this magazine. This partnership is one that is greatly valued by the Gallery, and the standard of the publication continues to reach new heights. So it was extremely gratifying, as we prepared to go to press with this issue, to see Bulletin recognised with a place on the shortlist for the Museums Australia Multimedia and Publication Design Awards 2018. The Gallery was also shortlisted for its Little Books of Art series, the Aberhart Starts Here publication and for the On for Ron fundraising campaign.
In this issue we have a focus on some significant but under-exposed works from our collection, selected by our curators to highlight the one hundred and twenty-fifth anniversary of Aotearoa New Zealand's decision, after years of political struggle, to grant the right to vote to all adults by extending suffrage to women. The intention is to make these paintings, and the cultural contribution of the artists, more visible in 2018. Dora Meeson, Edith Munnings, Viola Macmillan Brown Notariello, Evelyn Page and Helen Stewart were all respected by their peers and contemporaries. However, over time, their achievements have not been acknowledged as fully as those of their male counterparts.
We also hear from Sara Devine of New York's Brooklyn Museum, who looks at the museum's ASK Brooklyn app and the direct changes that an improved understanding of an institution's audiences can inspire. ASK connects users with art historians and experts via text message, allowing real-time conversations that aim to encourage a deeper connection with the artwork.
Gallery curator Peter Vangioni looks at a rarely seen work by one of this country's best-known artists— Rita Angus. Gasworks is a new loan to the Gallery, generously made by the family who have owned this key work since the early 1940s. We're excited to be able to exhibit it publicly for the first time in eighty-five years. And our senior curator Lara Strongman looks at one of the most popular works in our collection— Petrus van der Velden's melancholy Dutch funeral procession. Lara talks about our decision to return the painting to the original title given to it by the artist.
Also in this issue, we have an extract from Peter Robinson's interview with Tony de Lautour, whose US V THEM exhibition opened at the Gallery in early May. Tony and Peter look back at their time at Canterbury University's School of Fine Arts at Ilam in the mid to late eighties and the part that luck plays in the formation of a career. This interview is taken from our significant new book on de Lautour, which is available to purchase in the Gallery's Design Store and online. Our Pagework is from photographic artist Andrew Beck, My Favourite is from James Dann, who picks Tony de Lautour's Underworld 2, and our postcard comes from André Hemer in Vienna.
At the beginning of May we celebrated the Gallery's fifteenth birthday and the opening of US V THEM in style. A number of local bands and DJs, including Tony de Lautour, entertained the crowds. A highlight for me was legendary Christchurch noise metal band Into the Void, whose line-up includes artists Jason Greig and Ronnie van Hout. The photograph below was taken in the Gallery's NZI Foyer that night and catches something of the atmosphere of the event. I can't wait for the next one.