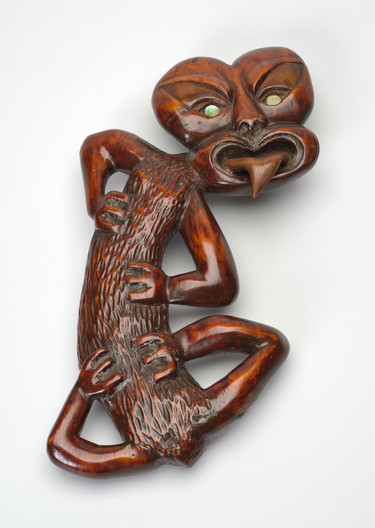 Norman Lemon's Untitled
Ranui Ngarimu makes her choice
At first glance I thought that this was a hei tiki. On closer inspection, my reaction was one of amusement, and I likened this piece to busy people needing an extra pair of hands when they are running around feeling like headless chooks. However, it is tagged as a Māori mythical or legendary animal and I respect that it is indeed a very serious piece. What I like about this work is the flowing carving style; the artist allowing the chisel to do the work and bring out the best in the wood and form. The intense facial expression he has captured allows me to imagine that this piece may well be a kaitiaki or guardian of something very special, and as such would more than likely have been a favoured piece had it been available in times long gone by.
Norman Lemon (Te Whata) exhibited work at the Canterbury Museum in 1966 alongside other well known Māori artists including Selwyn Muru, Arnold Wilson, Fred Graham and Buck Nin. Lemon's work for that particular exhibition was a woven wire presentation of Christ in Agony.
Along with Ngāi Tahu's own Cath Brown, Lemon was from the 'class of '66'—graduates of the legendary Gordon Tovey, the Department of Education's supervisor of arts and crafts (1946–66). Lemon was from the Bay of Plenty and was an active participant in the early years of Ngā Puna Waihanga (Māori Artists and Writers Collective). He was affectionately considered by his peers of that time as being 'on the fringe'.
Lemon also carved bone but the only other work of his that I know of is Muru—a figurine carved from rimu. The origins of this particular mythical animal are at rest with the artist.
I lament that it is unnamed as I would have liked a clue to its hidden history. As I continue to admire this piece I like the challenge of imagining more from it, but let me share with you that deep down, it still makes me smile!