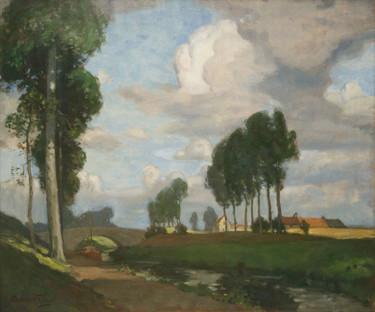 The Avenue
Dealaney Davidson makes his choice.
The trees have no branches and tall trunks. Reaching up into the sky down either side of the road. A hill in the distance. And the trees further down the avenue are paler than the ones up close. Clouds climb the sky. An unreal landscape, unlike here. Unlike our flat plates of two-dimensional land, smacked hard into a frame by some contemporary local hand and thrown into submission by our harsh light. No gentleman scholar posing as pragmatic hard-arse... Yes, quietly here lies the Avenue. Unreal in its charm. Eyes wander the road, deeper into what lies further down it. Out to the hill, the shape of a stand of trees on the hill and the future. Another time inside another time.
Local truths are lies elsewhere, goes the old Chinese saying. For landscape this is true as well. Nearly thirty-years later I sat in a bus, listening to Django Reinhardt and driving somewhere up the top of France. I felt like I was driving in a dream. This is the Avenue I thought. The road with trees on either side. I looked down the road, and moved into the distance. I felt like I was about to begin a strange conversation with a younger me, the same feeling as hearing your own alarm clock ring halfway through the day when you have been up for hours, and expecting it all to disappear in front of your eyes as you wake into a different reality. The bus drives into the distance.
Back home, trying to trace the weird roots of a dream, I looked again for that old picture, searched under French artists, Belgian artists, Flemish, Polish, Bohemian and German. It was impossible to find it. I thought back to where I was at the time and entered 'Calais'. Only one picture came up and it was the Avenue. It wasn't even of a road. I looked to see the elusive nationality and saw it was by a New Zealander. I wonder what his alarm clock sounded like.