B.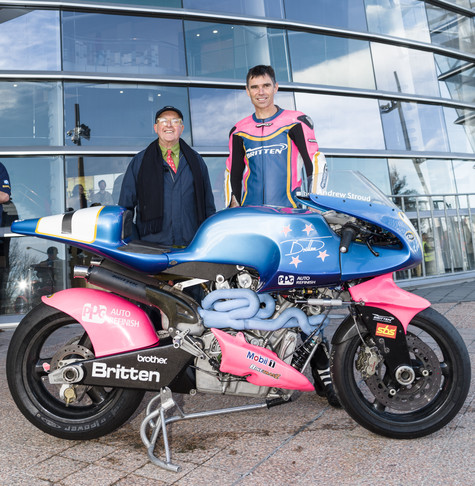 Billy Apple (1935-2021)
Note
Today we acknowledge with sadness the passing of Billy Apple (1935–2021), a senior figure in Aotearoa New Zealand art and frequent, valued collaborator with Christchurch Art Gallery Te Puna o Waiwhetū.
Billy made art with complete commitment and laser-like precision. Working with him required similar levels of dedication and sometimes considerable forbearance, but the results were always worth it. The Gallery was fortunate to undertake several projects with Billy, including one currently on display. The Bridge: An Institutional Critique, his proposed 'straightening' of the Gallery's curved bridge to allow a more direct path to the galleries on either side, was part of a long-running series of suggested alterations he made to art institutions since the 1970s, in Aotearoa, Europe and the United States of America. Since its unveiling in 2016, this project has provoked regular mentions in the Gallery's comments book, with many of our visitors taking issue with his statement that a bridge should be "a link between two points, not a path in the woods". These responses, of course, pleased Billy no end – his intention was not only to enhance the experience of art by adjusting the physical environs, but also actively engage people with the architecture that surrounds us.
While our bridge remains as wavy as ever, Billy did get one change to the Gallery's architecture over the line. When we installed his project Great Britten! – an exhibition celebrating the achievements of visionary Christchurch designer John Britten – Billy requested that we fill in a recess to create a more symmetrical room. This was undertaken and the drawings for the change accessioned into the Gallery's collection as a gift from the artist. Most visitors entering that space now have no idea that the room was ever different, but subsequent artists, exhibition designers and curators have benefitted from this simple adjustment that just makes the room 'feel right'. This forensic level of attention to detail was essential in creating what Billy called a "Prada-showroom finish" – an environment in which every element had been weighed, considered and adjusted as necessary. It's that commitment to creating only the best possible work that we'll remember most about Billy, along with his unwavering belief in the importance of art-making.
In what was perhaps our most memorable start to an exhibition, Great Britten! opened with championship motorcyclist Andrew "the Maestro" Stroud riding Kevin Grant's Britten V1000 — one of only ten in the world — around the block and across the Gallery's forecourt, performing a celebratory burn-out to mark its arrival. We think the sound of that thundering machine at full throttle – precision-engineered, outside-the-square and uniquely, unapologetically of Aotearoa New Zealand – makes a fitting farewell salute, as we offer our sympathies to Billy's partner, Mary. It won't be the same without you, Billy.