B.
Provocations: The work of Christine Webster
Exhibition
Complex, theatrical and fearless, the unsettling photography of renowned UK-based New Zealand artist Christine Webster will go on display next month.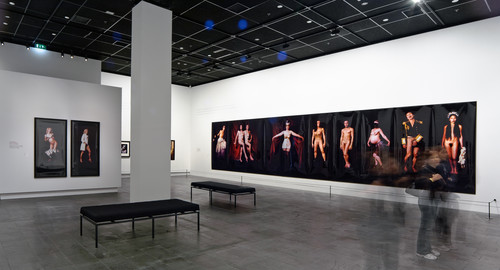 Webster's work has long entranced and challenged audiences. Provocations: The work of Christine Webster is a spectacular survey, curated by Dr Anne Kirker, inviting viewers to reassess their expectations of human behaviour while considering questions of propriety and expression.
Featuring many of Webster's best-known series – such as Black Carnival and Circus of Angels – alongside a new film project developed especially for the exhibition, Provocations highlights many of Webster's key artistic concerns, including sexuality, identity and representations of the body.
Director Jenny Harper says Provocations reflects Webster's fascination with the human condition and the various layers of our identities.
'Her work sometimes pushes our personal limits and challenges the established conventions of portraiture of women by questioning the privileged "male gaze". The artist herself features in a number of works – to be not only voyeur but participant – and she encourages her models to play a role for the camera, to feel at ease with being watched.'
The exhibition will be accompanied by a richly illustrated 96-page catalogue.
Born in Pukekohe, Christine Webster is an artist who deliberately creates work in different countries and social situations. She has been awarded numerous grants, including from the Goethe Institute and the Arts Council of England. After graduating from Massey University with a diploma in photography, Webster began investigating the balance of power between genders.
She launched her New Myths series in the late 1980s, featuring male and female nudes set against dramatic black backgrounds, before going on to stage a landmark touring exhibition in 1994 with her Black Carnival works. More recent work includes the highly provocative Le Dossier, her films Blindfield and Vigil, as well as Rapport, an exciting new film created especially for the exhibition.
Today, Christine Webster lives in the United Kingdom and teaches photomedia at Anglia Ruskin University, Cambridge.